It is not my intention to delve extensively into the subject of cast-iron reproductions, since the demand for the old itself is not very great. There are, however, excellent copies of old garden furniture which are worthy of mention, to say nothing of other interesting garden accessories.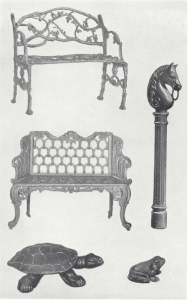 Plate 155
Iron hitching post and garden accessories from Virginia
Cast-iron andirons of good design have been reproduced for years, some of which I doubt whether an expert could tell from the old. Figures of Hessian soldiers and a figure of George Washington were favorites with the copyists because of the popular historical association.
Owners of country estates have long been interested in the old iron hitching posts in the forms of jockey boys, slave boys, etc., which sold at very good prices. New ones have been cast and sold during the past several years. Even the hitching posts surmounted by horses' heads are now made. One is shown on Plate 155. The safest procedure for a buyer who does not feel sure is to be guided by the conditions under which the piece is sold. If a dealer is willing to give a money-back guarantee, at least one objection is removed. Another method is to learn the circumstances attending the acquisition of the piece by the dealer, who, incidentally, should be above suspicion of mendacity. Sometimes one knows the family history, which obviates the need of further questions. If one pays the price of a new specimen sold frankly as such, there should be no comeback. Collectors who are forever seeking bargains run the risk of getting exactly what they pay for and no more.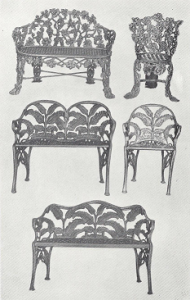 Plate 156 
Reproduction of favorite patterns in old iron garden furniture
Iron garden furniture, long a favorite, is being made in the South. On Plates 155 and 156 may be seen some of the patterns reproduced today. The grape as well as the fern leaf have been popular for many years.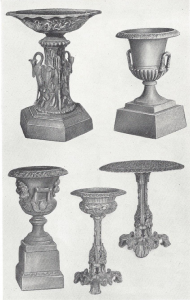 Plate 157
Iron Urns and a garden table
Iron garden tables and flower urns, also made in the South, are seen on Plate 157. There is some demand for these, though it is not as great as for the furniture. Other small objects are copied, such as trivets, frog doorstops, foot scrapers, skillets, etc.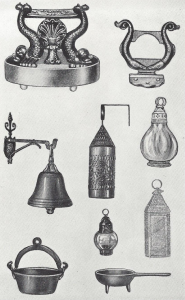 Plate 158
Copies of foot scrapers, early lanterns and other ironware
Lanterns have been reproduced for a long time, ever since the demand for new Colonial homes existed. They fit in so nicely, and save the trouble of hunting for old ones, and having them wired. Old lanterns are plentiful enough, though it often seems that any antique proves elusive when one wishes to find it in a hurry. Some of the above are illustrated on Plate 158. Good old fenders often prove a source of worry to collectors.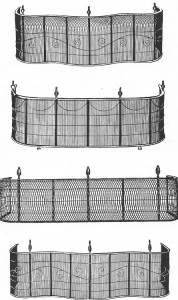 Plate 159
New fireplace fenders
I presume it is the reason that so many buy the new ones. On Plate 159 are illustrated several patterns being made today. They are advertised as authentic reproductions, handmade and correct in every detail. The advertised prices of the copies are higher than I have often seen the genuine old ones sell for, probably because labor costs today are much higher.