There are more reproductions of milk-white glass today than in any other line, or pattern, in the pressed glass field. Two or three companies are making it a specialty. Gift shops and some department stores have quantities of it on sale. All any collector or dealer need do is visit some of the shops carrying this ware and study it. An experienced eye will soon detect differences so obvious that the reproductions will cease to be a worry. Practically all of it is too heavy in weight, when contrasted with their older mates. Again, the whiteness is not the white of the earlier ware. The objective in making what the old-time glassworkers always referred to as "Opal" (with the accent on the second syllable), was to achieve a dense white glass. It was referred to in the beginning as "hot caste porcelain." When some ingredients in the batch burned out and left opaline streaks, the workmen would say it had "gone flinty." Thus in creating what was really a dense white, closely resembling china, the old-timers accomplished a result which I have not so far noted in the modern copies. The white in the reproductions varies from a pearl like white, to that which some refer to as "ricey," because it resembles the coloring in uncooked rice. Sometimes, though not always, the new has more gloss to the surface. Collectors who are seeking old milk-white glass should carry a genuine sauce dish, or any other small piece, about with them for contrast. It is the density of whiteness that counts, in the originals.
Sometimes the early ware did have opaline streaks, or an opal quality noticeable in the edges of dishes, but it is the general character of the whiteness that must be watched.
There is no harm whatsoever in all these reproductions, when they are sold as such. Some pocketbooks cannot stand the strain of the high-priced originals and so many homemakers can indulge in the highly decorative modern pieces at a comparatively low figure. The effect is much the same! Unfortunately, too much of the modern finds its way into antique shops.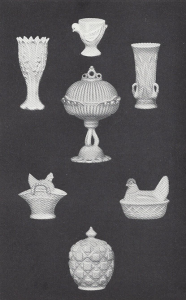 Plate 94
New Milk-White Glass
Just as long as there are dealers who are unscrupulous; just as long as there are dealers who are too indifferent or too lazy to inform themselves as to the obvious differences between new and old examples; and just as long as there are gullible and ill-informed collectors, there will be plenty of counterfeits.
One may argue that firms deliberately putting out glass reproductions to be sold as antiques are in the minority; that for every peddler of such wares there are a hundred honest "pickers"; and that dealers buying such merchandise are the exception rather than the rule. Well, burglars are a minority group, but I doubt if knowledge of the fact is much comfort to the man who has just been relieved of his silver collection or his wife's jewelry. Of course, if he has provided himself with burglar insurance, he is not without consolation; and as for the burglar, the arm of the law usually gathers him in sooner or later.
The best insurance the glass dealer or collector can carry is a working knowledge of the main differences between old and new glass, along with detailed information about the various counterfeits as they appear. Stopping the practice of antique glass counterfeiting is not easy, however, since it thrives on the less-pleasing human traits-greed and gullibility. Barnum made a fortune our of the latter, but he gave his victims their money's worth in entertainment. I doubt if anyone ever got much pleasure out of paying an antique price for a modern piece of glass.
In weighing an old and a new milk-white plate, I found the new weighed two ounces more than the old. In pattern glass there is often a wider variance. A new Wildflower plate weighed a quarter of a pound more than an old one. A new cranberry Inverted Thumbprint tumbler weighed half a pound and an original like it weighed a quarter of a pound. There is a much greater difference in the weight of old and new cranberry pitchers. So weighing glass is one more way of detecting copies.
Plate 95
Modern milk-white rabbit and kitten plates
It would be impractical co attempt to enumerate the differences between each and every one of the vast quantity of old and new milk-white items, since I have pointed out the distinguishing characteristics of the modern pieces.
I shall attempt to give the reader as complete a listing of the reproductions as possible, for easy reference. There is a chance that I have missed some, particularly since fakes are sometimes made up for a few certain dealers who own control of the mold, and thus they can disperse them slowly. Study your glass and be careful.
ANIMAL DISHES
ATTERBURY DUCK. Eleven-inch. A large variety of colors, including amethyst, marble glass, jade green, milk-white and white with colored heads. New ones are always undated.
CAMEL. This was made originally by Vallerysthal, in Alsace. The factory is said to have been destroyed during the last war, so some of their dishes are now being made here. Marked pieces would be old.
CAT. On rectangular lace-edged base. Milk-white, opaque-blue.
DOG. Ribbed base. Milk-white.
FROG. This is not like McKee dish. It is a sitting frog, and old ones are marked vallerysthal.
HAND WITH DOVE. Rectangular base with lace edge.
HENS. Basket weave base, five- and seven-inch sizes. Made in Marble glass, amberina, in white with colored heads, in opague-blue, amber, amethyst and milk-white. Some of these were sold during the early 1930′s.
HENS. Varied sizes and coloring, chiefly in two-, three-, and four and one-half-inch sizes. Colors, milk-white, amber, opaque-blue, black, and probably others. Have seen a frosted green.
ROOSTERS. On basket weave base, five- and seven-inch. Milk-white, frosted, opaque-blue. Sometimes sold with addition of glass eyes. Also, on a ribbed base, five-inch.
CHICKEN ON BASKET with handles. Milk-white. Plate 94.
STANDING ROOSTER. Originally a Vallerysthal covered dish. Milk-white, opaque-blue.
ROBIN. Vallerysthal, on elaborate base, a pedestal type. Shown in Victorian Glass.
DUCK. Milk-white, frosted, five-inch.
DUCK. Squatty type, six-inch, frosted and probably colors.
RABBIT, MULE-EARED. Basket weave base. Five-inch. Milk-white, milk-white with jade green head.
RECLINING RABBIT. Basket weave base. Seven-inch. Milk-white, opaque-blue.
RABBIT. Picket base, five-inch. Split rib base.
SWAN. Uplifted wings. Rectangular base with lace edge. Nine-and-one-half-inch.
SWAN. Open neck, five-and-one-half-inch. Clear, frosted, milk-white. Vallerysthal. Plate 97.
SWAN. Open neck, five-inch. Basket weave base.
LARGE FISH. Vallerysthal. Frosted green, among other colors.
LARGE TURTLE. Vallerysthal, eight-inch. Milk-white, amber.
TURKEY. McKee type, with split rib base. Milk-white and colors. Five-inch.
Plate 96
New lace dewdrop goblet and modern satin glass vase
PLATES
The set of plates decorated with kittens, owls, rabbits, erc., are said to have been souvenirs of the Pan-American Exposition held in Buffalo, N. Y. in 1901. These listed are being made today, and some were also available during the 1930′s. Sets were sometimes sold, held together with colored ribbons. Plate 95.
THREE BEARS
EASTER CHICKS
THREE KITTENS
THREE OWLS
RABBIT AND HORSESHOE
CUPID AND PSYCHE
GEORGE WASHINGTON
INDIAN HEAD
NIAGARA FALLS
CONTRARY MULE
ANCHOR AND YACHT
ANGEL
OLD CASTLE
LACE-EDGED PLATES
Old glassworkers used to refer to these as "O.W." plates (open-work).
HEART. Two sizes. One new batch was made in red, perhaps on special order.
SQUARE "S" edge. Eight and one-half, nine and one-half inches.
FLEUR-DE-LIS, EAGLE AND FLAG. Seven-inch.
WICKET. Nine-inch.
SQUARE, peg border, eight-inch.
FOR-GET-ME-NOT. Seven-, eight-inch.
FLEUR-DE-LIS. Seven-inch.
LATTICE edge ten-and-one-half-inch plates with both open and closed edge. These have just been reported, so I have not seen them. They are said to be rather poor copies, being heavy and with a "ricey" appearance.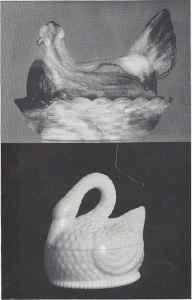 Plate 97
Upper: Reproduction hen dish in purple marble glass
Lower: Vallerysthal Five and-one-quarter-inch Swan covered dish
MILK-WHITE PATTERN GLASS
BLACKBERRY goblets and creamer. These are copies of the true Blackberry pattern.
BLACKBERRY VARIANT. Not a pattern known to collectors and dealers. This is a design you will see in department stores. It is plain, having one long stem with a single cluster of leaves, and three shorter stems, each carrying one berry.
LACE DEWDROP. Some dealers are now referring to this as "Beaded Dewdrop." It has been made off and on since about 1900. Fairly large sets are now being produced in milk-white. Plate 96.
IVY IN SNOW. Made almost exclusively in crystal originally, it is now being turned out in sets, in milk-white. Modern pieces have been in production, off and on, since the 1930′s.
MOON AND STAR VARIANT. Bowls, eight-inch. Footed compote, eight inches high.
ENGLISH HOBNAIL. This design was originated by Mr. Charles West, who founded the Westmoreland Glass Co. about 1893. It was made by him, mostly in crystal, while he was associated with the company. A number of pieces are now being made in milk-white, including compotes, rose bowls, covered sugar bowls, baskets, goblets, and other modern forms.
BLOCK AND FAN VARIANT. Covered compotes, water pitcher, lemonade glasses (tall tumblers) sugar bowls, vases, ere. Plate 94.
SWAN (with Fern). A few attractive pieces are being turned out in this pattern, such as butter dishes, matchholders, etc.
SWAN (with cattails). Items in this design have been in circulation since the 1930′s. There are covered sugars, covered creamers (Swan finial) a tall vase, marchholders and possibly other items.
GRAPE. A modern milk-white grape goblet, having a heavy design of grapes, with fine lines about the stem, appeared in the 1920′s, and department stores carried them. Some had grapes on the inside of the bowl. A similar Grape pattern has been carried on in water pitchers and lemonade tumblers, besides the goblet.
MAPLE LEAF. Copies of a very late pattern, in a two-handled sugar and a creamer, with an all-over leaf design. This is nor the Maple Leaf illustrated in Early American Pressed Glass.
CHERRIES. A covered sugar and creamer in a very late pattern, having Bat panels on rhe sides showing a cluster of cherries. These have also appeared in a poor copy of Marble glass.
WILD ROSE. Covered sugars and creamers. Gift shop items. PEACOCK. Covered sugars and creamers. Gift shop items.
FRUIT. Known in stores as Della Robbia. A modern set of glass made in crystal, in milk-white, and in crystal painted over in colors.
In addition, there are duck open salts, a ribbed covered compote with openwork edge on foot; ribbed sugar bowls; two sizes in the large deep shell supported by a dolphin with hexagonal base, and the same type dolphin base supporting a round bowl; several styles of vases (lily of the valley, wild rose, etc.); fifteen- and nine-and-one-half-inch vases, in a large flower pattern, or a grape pattern, which are copies of old-time pickle jars; lace-edged compotes, cake plates and candlesticks (openwork edge around foot); double-hand dishes in milk-white, marble glass, and copper luster; Fan and Circle bowl, with or without a collared foot; and a Crystal Wedding covered compote in milk-white, sometimes decorated in gilt with colored grapes and referred to as "Golden Wedding." A rectangular lace-edged dish is made, eight by four inches, and some dealers advertise an oval seven-inch lace-edged one that will fit some of the animal covers. There are also shell-shaped sauce dishes on three feet, together with a large matching flat fruit bowl. Dolphin candlesticks and a copy of the small Sawtooth candlestick shown in Early American Pressed Glass  have been out for years. During the past five years, a number of novelties have appeared in milk-white, which date from the early 1900′s, in the way of pin boxes, dresser boxes, round pomades, dresser trays in various sizes and patterns, which were often decorated, during the hand-painted china era, with roses, violets, pansies, etc. A swan salt appeared during the 1930′s, in a pearly white, which showed every indication of newness. These have been seen in a variety of colors, including ruby-red and sapphire-blue. Old ones were made in milk-white during the 1880′s.
This is as thorough a listing of milk-white items as it is possible to make at this time. Collectors and dealers must not be careless in their buying, for new pieces are continually coming out.