Almost exactly one year after being slapped with a $3BN "settlement fee" in the USA for bribing doctors, The British Drug giant is again facing bribery charges, this time in China. Is this is a case of Chinese protectionism against business competition from the free & civilized world, or could it really be that GSK has something other than the health of Chinese people at heart?
Bribery Allegations
Chinese Police announced on July 15th 2013 after investigations spanning several months that GSK have been bribing doctors, hospitals, medical associations and even government officials in order to get more GSK drugs approved and prescribed to the Chinese public.   More than $450,000,000 is said to have been paid by GSK into this bribery scheme since 2007, according to officials.
GSK Corruption History
These allegations are not to be confused with the quite separate allegations that GSK has been hard-selling Botox, for which it has Chinese distribution rights, to Chinese doctors by offering them incentives to push the cosmetic filler onto Chinese consumers.  According to the Wall Street Journal, GSK sales reps in China were told to communicate with doctors about these incentives using their personal emails and not their GSK emails, because "it would be better" that way.
Nor are these accusations in any way related to the 2012 US fraud case in which GSK was accused of bribing doctors, marketing adult drugs to children, and promoting products to treat medical conditions for which they were not approved; a practice commonly known as "off label marketing" in the pharmaceutical industry. GSK pleaded guilty to the charges, agreed a $3 billion out of court settlement and according to GSK CEO Andrew Witty the company "learnt from the mistakes that were made". Apparently not well enough!
Also, these claims have no connection with the 2013 dismissal of GSK's head of R&D in China, in a case of data fraud.  In 2010 nature medicine, a respected biomedicine journal published a paper authored and supervised by senior GSK staff from their Shanghai R&D department, the data for which was subsequently proven to be misrepresented.
Pay Back From a Disgruntled Former Employee
The figure at the centre of the GSK data-fudging scandal is Jingwu Zang, head of R&D centre's department of neuroimmunology in China and senior company VP. He was subsequently fired after the scandal went public but has remained adamant that while he bears some responsibility for the fiasco, he was not directly involved in falsifying data and had no knowledge of it.  Those inclined to believe GSK are the subject of Chinese persecution might point to Mr. Zang, a Chinese national, presumably with not inconsiderable influence in the Chinese medical & business establishment as having an axe to grind.
GSK Bribery Methods
Conducting a nationwide bribery scheme is no mean logistical feat, and every good scam needs a front, or 700 in this particular case. Chinese police claim that up to 700 Travel agencies were involved as fronts for paying bribes to Chinese doctors and health officials.
According to Chinese Police, fictitious health conferences & events requiring travel expenses were created, the funding for which was paid by GSK to these travel  agencies which subsequently redirected these funds into the accounts of bribees.
Consequently, there is no proof of direct payments from GSK to doctors on record.  However, according to Chinese police, the fact that many of these 700 companies had no other business relationships other than those with GSK indicates that they were nothing more than fronts for the British drug giant that acted as "godfather" of this far-reaching criminal enterprise.
The Curious Disappearance Of Mark Reilly
In the midst such troubling allegations a staunch reassurance from GSK's man on the ground is surely what would be needed to re-affirm the people's faith in the integrity of this bastion of honest British commerce, if not humanitarianism.  Bizarrely, Mark Reilly head of GSK pharma in China appears to have scarpered.  Chinese police claim he left the country on June 27th 2013 and has yet to return. GSK as of July 15th 2013 have not commented on his whereabouts.
In the absence of Mr. Reilly, reassurance came from GSK UK headquarters in the form of a press release issued on  July 15th 2013 stating:
"We are deeply concerned and disappointed by these serious allegations of fraudulent behaviour and ethical misconduct by certain individuals at the company and third-party agencies. "
As are we. We only hope GSK senior management don't try to scapegoat one or two mid-level managers and deny any liability for the actions of these "third parties"
"Such behaviour would be a clear breach of GSK's systems, governance procedures, values and standards. "
But not track record evidently.
"GSK has zero tolerance for any behaviour of this nature. GSK shares the desire of the Chinese authorities to root out corruption. These allegations are shameful and we regret this has occurred."
They regret they got caught, again. A zero tolerance policy would mean the board of directors were fired, not a token native here and there. The only thing worse than the board of directors being complicit in bribery and targeting children with inappropriate drugs known to have side effects would be that they didn't know what was going on.  There should be zero tolerance of such ignorance.
"We are taking a number of immediate actions. We are reviewing all third party agency relationships. We have put an immediate stop on the use of travel agencies that have been identified so far in this investigation and we are conducting a thorough review of all historic transactions related to travel agency use."
Perhaps they might like to start by explaining why on earth they needed relationships with 700 travel agencies.
"We also intend to conduct a rigorous review of our compliance procedures in China."
Ah yes, it must be the peculiarly Chinese compliance procedures that are to blame. If the "rigorous review" reveals that GSK's original compliance procedures didn't take into account that bribery wasn't ok in China, they had better review their compliance procedures for all regions, as it's a safe bet to say bribery isn't considered acceptable business practice anywhere.
"We also fully support the efforts of the Chinese authorities in their reforms of the medical sector and stand ready to work with them to make the necessary changes for the benefit of patients in China."
The bribery allegations levelled against GSK have nothing to do with any "reforms" in the Chinese medical sector. At no time has anyone involved in this story made any mention of Chinese medical sector reforms, and for GSK to insert this into the midst seems deliberately obfuscating, as though bribery used to be okay in China, and it's only because those pesky Chinese have recently decided to reform away from bribery that everything seems to have gotten into a muddle.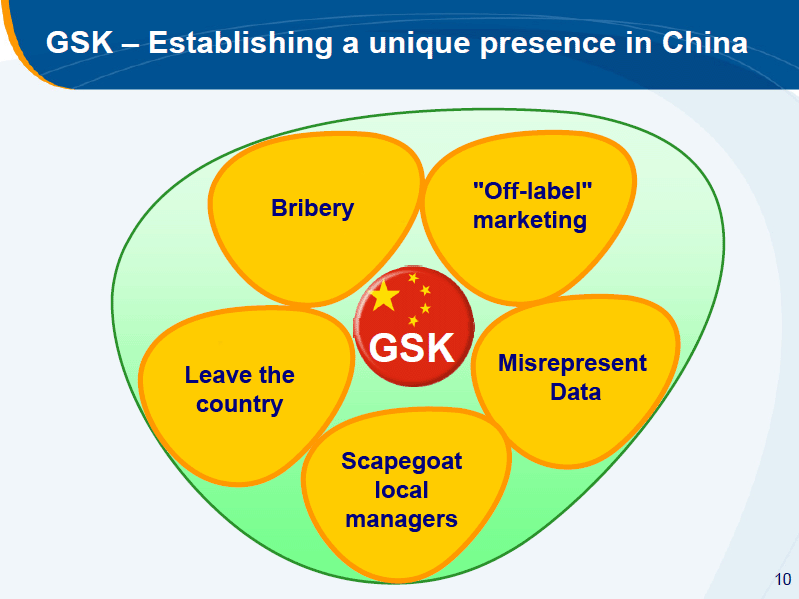 Motivations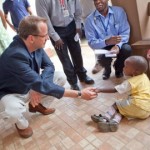 The Chinese, with their communist leanings might say it's really quite simple; the more drugs GSK sells the more money it makes and as a publicly listed company with shareholders, the first priority has to be to those shareholders, not to the sick people buying GSK drugs.  Poor sales figures lead to diminished profits which in turn are reflected in lower dividends and falling share prices.
This a happy shareholder does not make.  Since shareholders have the power to vote out company directors, it's in the directors' interests-assuming they want to keep their multi million pound remuneration packages- to keep shareholders happy.   This pressure is passed onto regional managers who are expected to increase sales and market share if they want to make it to the board one day.   Unfortunately, when a company's  products have no intrinsic advantages over several others, doctors need to be motivated by other means to prescribe a certain companies drugs.  When one considers doctors in china make little over $1,000 per month on average, it's not difficult to see why financial incentives offered by multi-billion dollar pharmaceutical giants would be persuasive.
Of course, nobody would ever suggest that Andrew Witty, chancellor of the University of Nottingham and a genuine knight,  was insincere in his 2012 remarks that GSK "had learnt from its mistakes" and GSK lying, bribery and pushing drugs onto children were practices from "a different era for the company"  and would never happen again. But the truth is that when something as vital as providing medicine to treat sickness is ultimately directed by shareholders' demand for profit, then the welfare of sick people plays a minor role in what is a multi-billion dollar business.
Alternative Theory: Chinese Trade War
GSK is far from being the only western company that has come under uncomfortably close scrutiny by the Chinese authorities of late.  In fact, a belief that has steadily been gaining traction in some quarters is that China is in the midst of a tit-for- tat trade war with the west, being played out not only through embarrassing police investigations, but also concerted Chinese media campaigns against western brands.
Danone, Nestle and Mead Johnson were recently forced to reduce prices of baby milk powder in China due to a government investigation into price fixing.  Apple & Volkswagon have both been the target of exposes by CCTV the national TV broadcaster, accused of treating Chinese consumers as second class citizens and supplying the market with faulty gearboxes respectively. KFC was recently exposed for selling sub-standard chicken to the Chinese market. Some analysts see this as retaliation for hostility felt by Chinese companies expanding into western markets.