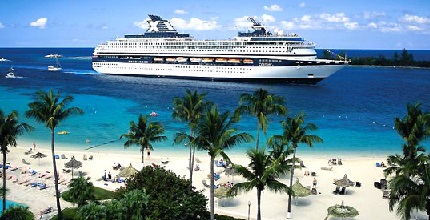 A little over 100 years ago a ship you might have heard of called the Titanic sank into the cold waters outside of Canada. This tragedy, along with the rise in air travel, put a stop to most of the cruise industry for quite some time. However, today cruising is booming all over the world. Chances are you know someone who has been on a cruise, and chances are they are your grandparents. Despite being thought of in the past as a vacation for older generations, cruising is now a fantastic way for younger people to travel and explore without shelling out a ton of money or having to spend the night in even one questionable hostel.
After the boom of the air travel industry in the 1960s, traveling by ship seemed to be a thing of the past. However in the early 1980s, cruise companies realized that if they made the ships destinations in themselves, they could lure customers back with promises of gourmet meals, pools, and shuffleboard.
From there, the amenities grew, as did the volume of happy cruisers each year. Today you can climb a rock wall, see a Broadway show, or sip vodka in an ice lounge, all at sea. The two largest ships on the water are currently owned by Royal Caribbean. The Oasis of the Seas and the Allure of the Seas hold around 6,000 passengers each and have a Central Park featuring real trees running down the middle of the vessel.
So does this have to do with the avid adventurer you might ask? Don't cruises just shuttle the very old and young families with toddlers around the Caribbean all year round? Well, yes and no.
It's true that the vast majority of the money made by major cruise companies comes from basic Caribbean and Alaskan itineraries that appeal to retirees and families. However, if you look hard enough you can find itineraries that are completely out of the ordinary, and this is where the exciting travel comes in.
The first trips to look for are called 'repositioning' itineraries. That means the boat is being relocated from one area of the world to another. In the process, cruise companies' sell the rooms at a large discount and stop at ports they usually wouldn't consider. For instance, a recent repositioning cruise itinerary included two stops in Malaysia, two in Egypt and one in Jordan. Another coming up in February takes the boat all the way around the tip of Chile from Los Angeles to New York, with several obscure stops in South American along the way.
Another thing to keep in mind is that most large American cruise companies are just beginning to cater to Asia. There is obviously a massive market there, and cruises are heading over there in droves. If you want to see Southeast Asia, China, or even Australia, there are tons of cruises planned for the entire region at very reasonable prices.
In addition to new, exotic itineraries, cruising also has the added benefit of lower costs than the traditional vacation. It's almost guaranteed that paying one flat rate for a week, month, or even a longer, a cruise is significantly cheaper than paying piece-meal as you trek through countries independently. In addition, all of your food, board and transportation is included for the most part. Obviously, you are responsible for you expenses when you are off the boat for the day, but overall, it is a true money-saver. This is especially true if you can explore on your own instead of with ship organized excursions.
Money aside, many of the itineraries that are now available on cruises are priceless. You can now see Bali, Thailand and Cambodia all in one organized trip. However, instead of having to hustle for trains to get from place to place, the ship will take you while you sip a cocktail. And instead of strapping on an overstuffed backpack, all of your things are right where you left them the day before. The boats are exceedingly clean, the food is reliably non-toxic, and the television is always in English. Returning to a sterile, controlled environment after a day of stimulating sightseeing is surprisingly refreshing.
There are also pitfalls to cruising. First and foremost you might only get to spend one day in a place you really love. It can be frustrating to be forced to return to the ship when there is still so much more you want to see. Think of it as a sampler for places you might want to return to someday, or a heads up on places where one day is more than enough.
The ship's demographic is the other main issue when cruising. Sure, there is a massive over-60 population. And sure, there are Bingo and Boggle tournaments nightly. But despite the retiree vibe, you still get to see some incredible things, and who knows you might learn something from that 90-year-old man cleaning up at the craps table.
Cruising is not for everyone. It certainly is a unique and unorthodox way for a young person to see the world. However, as more and more cruise ships become gateways to incredible destinations that an average person might otherwise never get to see, it might be time to consider jumping on board.