Antalya, Turkey is one of those places a person can visit and leave with their heart forever changed, and with their mind and heart full of fond memories. Everyone takes a small part of Antalya back home with them. This stunning geographic locale leaves such an amazing, indelible impression. How does this happen?
If you were to visit the top places that travelers must see on their trip to Antalya, you would find out! Antalya has always been a popular place for visitors. With its turquoise water, beautiful scenic beaches, historic ruins, miles and miles of coastline and mountains, Antalya has something for everyone to love. Some of the best wonders that nature has to offer in Antalya include:
The Flames of Chimaera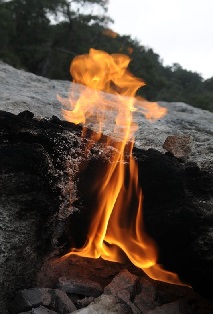 The fascinating natural wonder called the flames of Chimaera are found in the region of the Cirali resort. Visitors are thrilled by these everlasting flames that come up from in-between the rocks. It is an impressive natural wonder that can be explained in a scientific way.
Gases released from the earth, seeping from between cracks in the ancient rocks are ignited by air. This creates flames that burn constantly. No matter how many times people might have attempted to put out these flames, they continue to burn, thrilling visitors with their fiery display.
Thrilling Waterfalls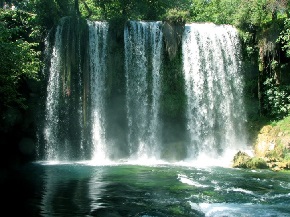 Some of the most glorious natural waterfalls in Antalya include Duden Waterfalls, found in the city of Antalya, and the Manavgat Waterfalls, found close to the resort called Side. There are souvenir shops nearby, along with pretty tea gardens where visitors can enjoy a variety of refreshments.
Interesting Ways to Come Down from the Mountain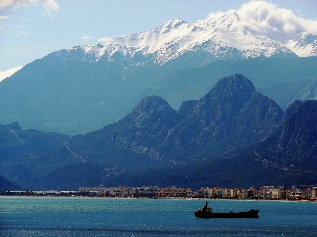 Visitors to Antalya find cable cars that they can ride to go to the peak of Mount Tahtali. Travelers are thrilled by the amazing views and the rugged, interesting landscape of Antalya. Off in the distance, everyone notices the beautiful Taurus Mountains. Travelers have a choice of taking the cable car back down the mountain, or for the adventurous at heart, paragliding off of, or skiing down the mountainside.
Turtles Hatching Near The Village Of Cirali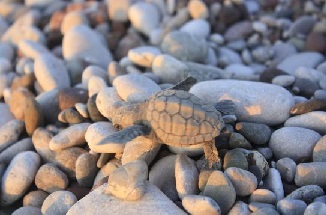 If you happen to time your visit just right, and if circumstances are right, you may get to see baby loggerhead turtles hatching off the coast of the Village of Cirali. This happens around the first week of September. There must be a full moon in progress to catch this breathtaking natural event.
If you visit in the springtime, you might be lucky enough to see female loggerhead turtles coming forth out of the dark water to lay their eggs on the beaches. No matter when you visit this historic village, it is an amazing place with quaint little shops and cafes that will appeal to any taste. The nice thing is, the shops and cafes are situated away from the coastline to allow the turtles to continue their rituals of life every spring and fall. The most interesting man-made and hand created wonders of Antalya include:
A Sand Art And Sculpting Competition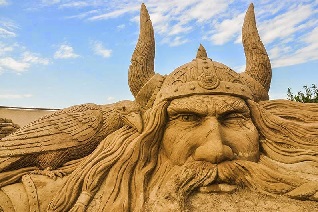 A thrilling sand competition is held every year from the third week in May until the third week in October at renowned Lara Beach. Beach lovers will be thrilled by the amazing artistry demonstrated here. The festival is known as Antalya's Sandland Festival.
These are not amateurs building simple sand creations. The sculptures made are massive and professional creations. This amazing festival allows visitors many wonderful photographic opportunities!
Take A Trip To Town!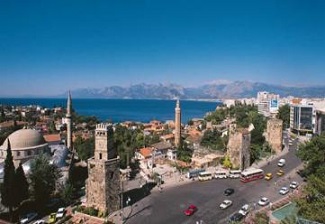 From the center of Antalya to the quaint and historic area of Demre is just a three-hour drive. Visitors can see the church of Saint Nicholas here. Saint Nicholas was once the mayor of Demre, and later he was to become known as Santa Claus. Another brilliant reason to visit Demre is to see the ancient Lycian ruins of Myra.
Another interesting town to visit near Antalya is Kaleici, which is also sometimes called the old center of Antalya, or the old town. Visitors are thrilled to see the majestic Roman triumphal arch here, signifying a visit by Hadrian, a famous Roman emperor. The Roman Clock Tower also provides another fantastic photo opportunity.
Other interesting attractions found in the town center include intriguing, small art galleries, boutiques, shops and pretty cobblestone streets. Visitors also love taking the tram along the sea-side to visit the beach at Konyaalti, and the interesting Antalya Museum.
The town of Phaselis is interesting to tourists because of the mixture of fascinating ruins found here and the beautiful, pristine beaches. Travelers can get to this town either by the sea or by driving. This famous town was once home to Alexander the Great, who was once a well-known ruler in the area. An ancient amphitheater, tiny houses featuring interesting architecture and a street that is home to the area's main market all offer good reasons to visit.
The Antalya Archaeological Museum Offers Educational Opportunities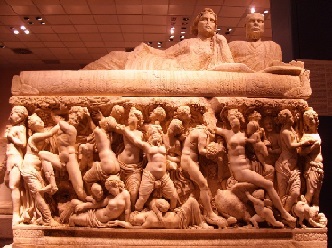 Museum lovers enjoy browsing the exhibits displayed at the historic Antalya Archaeological Museum. This is highly regarded as one of the best museums in Turkey. With a wide variety of historic displays, travelers leave with a better understanding of the people, customs and culture of the area. Exhibits are found there help to teach visitors about all the different periods in time that affected and shaped this historic area.
Visit a Famous Roman Theater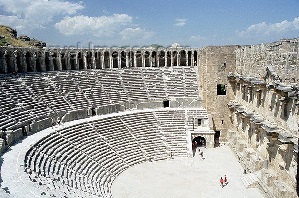 To see one of the best preserved ancient theaters, visitors flock to historic Aspendos, which is found in the Belek region of Antalya. The Aspendos Ballet and Opera host a festival every summer that attracts visitors, especially opera and ballet enthusiasts, from all parts of the world.
For Fans of Historic, Ancient Ruins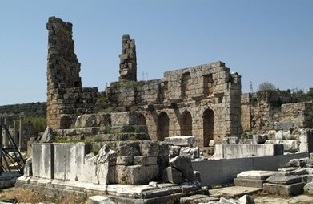 Found inside of the Gulluk Dagi National Park, people who are intrigued by the history of fascinating ancient ruins will love visiting the famous Termessos ruins. Not only are these ruins preserved very well, but the scenery here offers photography enthusiasts a chance to use their photography skills.
 
Some of the most breathtaking scenery in the entire area is found among these ruins and in the vast expanse of the Gulluk Dagi National Park. The thick vegetation here creates a perfect home for animal life as well. This scenic park is home to several varieties of rare, endangered animal species including Golden Eagles, Mountain Goats and Fallow Deer.
A Visit to the Blue City of Antalya Offers Something For Every Interest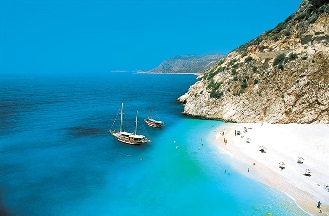 Antalya is sometimes called the blue city because of its beautifully blue, crystal-clear water and gorgeous beaches. Visitors have come to Antalya for many years to find a nice escape from the hectic pace and frenetic life that exists wherever they call home. A charming blend of miles of coastline, fishing villages, coves and a large strip of hospitable resorts makes the area irresistible to many travelers.
Visitors Return Often
Whether relaxing underneath the shade of a majestic palm tree is a traveler's goal, or playing a round of golf on any of the excellent golf courses, every visitor finds something exciting and fun to do in Antalya. Once people have been touched by the beauty of this area, they find themselves naturally drawn back to the enchanting Antalya region again and again.