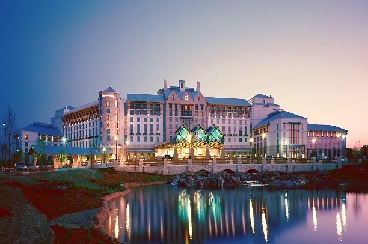 Grapevine is a growing city.  Many new attractions have come in the last few years.  Located between Dallas and Fort Worth this city has plenty of things to see and do.  Regardless if you are looking for sports, outdoor activities or shopping, Grapevine has plenty of everything within driving distance. 
 
Hotel accommodations
Grapevine is known for having two very impressive hotels, The Gaylord Texan and the Great Wolf Lodge.  The Gaylord Texan was the first of the two major hotels to move into Grapevine.  The Gaylord Texan opened April 4th , 2004.  The hotel has weekly conventions that include everything from car clubs to video game tournaments.  The Gaylord Texan also features an ICE exhibit starting every November where million of pounds of ice are carved by the most professional artist from Japan.  The Great Wolf Lodge opened in 2007 only a few blocks down from the Gaylord Texan.  The Great Wolf Lodge is mainly known for two things.  First there is an indoor water park that is open all year around.  The water is heated to a comfortable level year around.  Second the Great Wolf Lodge has a huge adventure called Magic Quest.  After you purchase a wand, you can adventure throughout the entire hotel using the wand to perform quest and play games.
 
Outdoor activities
You can walk from the Gaylord Texan to Grapevine Lake.  Grapevine Lake offers water sports, hiking and fishing.  Sand bass and Catfish are the primary species sought after on the lake.  Black Bass are a close third targeted species.  Many hiking trails can be found all around the lake.  McPherson Slough is highly recomended on the west side of the lake.  The Silverlake Marina offers boats and jet skis for rent.  A huge party boat that can hold over 20 people is one of the main attractions on the lake.
 
A few miles north of Lake Grapevine is Lake Lewisville.  Lake Lewisville is one of the most popular lakes in the DFW area.  Lake Lewisville is known for having huge catfish.  If you like to party and have a boat you can check out party cove.  Party cove is located on the south part of the Old Lake Dallas just on the north side of the old dam.
 
If you don't mind driving, you can visit the Dallas Arboretum in Garland.  The Dallas Arboretum always has a lot of cool garden sites.  Tulips are one of the major attractions as well as the pumpkins in the fall.
 
If you head into Fort Worth you can visit the famous Fort Worth Stock Yards.  The Stock Yards offers a lot of stores with Texas apparel.  You can even catch a train to the Stockyards and back. 
 
Other things to do
There are a lot more things to do and see in and around Grapevine.  In Grapevine you can go to Bass Pro Shops, see the Sealife Aquarium, Lego Land or eat at many different varieties of restaurants.  DFW airport is only a few miles away if you need to fly out or into the area.  Downtown Dallas and Fort Worth offer night activities and the party scene.  Several comedy clubs are found in both including the incredibly funny Hyenas comedy club!  Cabela's is another sporting good store that is located just north of Fort Worth.  During the month of October Flower Mound which is located northwest of Dallas has a large pumpkin patch and during December it becomes a huge Christmas tree lot.  Between Memorial Day and Labor Day every Friday the Gaylord Texan sponsors fireworks over Lake Grapevine.  Main Street is very popular in Grapevine.  There is an old train station as well as country shops and wine tasting.  You can even watch glass blowers make glass art.
 
Grapevine Mills Mall is only about one mile from the hotels.  You can shop here or one of the many other malls in the area including Vista Ridge in Lewisville and Frisco Mall in Frisco.  
 
There are a lot of movie theaters including dollar movies, regular movie theaters and IMAX 3D theaters.  Ennis which is located south of Dallas offers a drive-in movie theater that features double movies.  Forth Worth has recently opened a drive-in as well.
 
The Dallas Stars, the Dallas Mavericks, the Texas Rangers and the Dallas Cowboys all play within about a 30 minute drive of Grapevine.  If you like to watch sports, this is the city to see them.  Texas Motor Speedway is located just north of Fort Worth.  If you like racing, this is the place to visit.
 
Whatever you're looking for Grapevine and the surrounding area has it.  You can find anything you want within 30 to 45 minutes of driving.  Most of the activities can be found within 15 minutes of the heart of Grapevine.