Five of the best red sea dive spots accessible from Dahab.
Stellar visibility, bright corals, brilliant marine life and generally calm, warm waters make Egypt's Red Sea a mecca for divers. And, with its easy shore dives, laidback lifestyle, excellent value training and stunning desert setting, Dahab, just an hour or so's ride from Sharm el Sheikh airport, is one of the best places to explore the Red Sea.
There's something in Dahab for every type of diver, from the newbie looking to get qualified right through to experienced tec divers in search of new challenges. Here's five of the best dive sites to explore while you're there.
Blue Hole
Notorious as one of the world's most deadly dive sites, the Blue Hole is a dramatic submarine sinkhole – an underwater cone that opens onto a sheer wall dropping hundreds of metres into invisibility. The classic entry, from El Bells, is a swim through a narrow crack in the rock that drops down through a dramatic chimney, emerging onto the wall at around 26m – fin right, and over a pretty saddle, and swim back around the inside of the Blue Hole itself. The Arch, at 56m, is only suitable for experienced tec divers – people can and have died attempting it on a single tank of air.
Canyon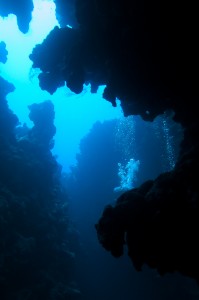 A lovely, architectural dive, the Canyon is a sheer black crack in the rock, lined with dramatic overhangs, and surrounded by coral gardens. Open water divers can swim over the top of the Canyon and explore the corals and life in Canyon Garden; advanced divers enjoy the exhilarating descent through the narrow entry to the base of the Canyon at around 30m, and explore along. Tec divers appreciate "full Canyon" – a swimthrough onto a sheer wall at 52m – and Neptune's Chair.
Thistlegorm
When the British merchant ship, SS Thistlegorm, was bombed on 6 October, 1941, she was carrying a full load of military supplies. And many of those supplies are astonishingly well-preserved, making this an absolutely classic wreck dive: giant morays nestle in Enfield motorbikes, turtles and groupers swim past locomotives, bulldozers and half-track tanks, and crockery is still visible in the kitchen.
Thistlegorm rests at almost exactly 30m in Ras Mohammad National Park, and is usually visited as a daytrip with two dives on the wreck and a third elsewhere in Ras Mohammad. Because of the depth, the overhead environment, tight swimthroughs and currents that are strong by Red Sea standards, it's only suitable for advanced divers with a few dives under their belt.
Islands
With a depth of only 18m, but complex, variable currents, Islands is a beautiful, colourful dive, replete with tall coral pinnacles and brilliant reef life, that whirls around complicated reef formations. Expect all the classic shallow-water reef fish, as well as bigger visitors like Napoleons and groupers.
Ras Abou Galoum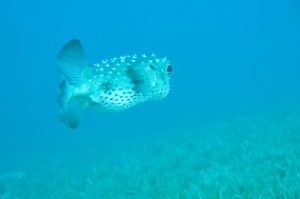 Ever fancied taking a camel to a dive site? While boats do go to this desert paradise from Dahab, one of the best ways to reach Ras Abou Galoum is by loading yourself and your gear onto camels – and overnighting allows you the magic of a night dive followed by a night on the beach. The coral here is pristine, and blue spotted stingrays abound, while Spanish Dancers are often seen on night dives.
Looking for more? Check out Caves, a series of dark overhangs with a dramatic descent into an eel garden; try Rick's Reef, a shallow drift dive along colourful reef that's suitable for open water divers; explore Umm Sid, with a dazzling Gorgonia and a small cave where sharks sometimes hang out at around 36m.
Many divers learn at Lighthouse, with an underwater junkyard populated by morays and lionfish, a buoyancy practice area, a sea grass area where seahorses are sometimes seen, and a lovely coral dropoff; Tiger Reef is a rarely visited dropoff with pristine coral at every depth; the drift dive between Golden Blocks and Moray Garden can be extremely rewarding.
Dive prices in Dahab vary according to provider – and rental gear quality varies according to price. All dives are guided, most operators offer package discounts, and it's possible to find dives with gear hire included for under 20 euros.