Want to know a little bit about Athens, the capital of Greece?
Athens was not always the capital of Greece. It only emerged as the powerful capital to modern Greece after the War of Independence.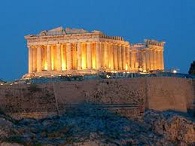 However, Athens has always been known as a centre of art, literature and commerce throughout the history of Greece.
There is a rather incongruous compatibility between the past and the modern, with ancient ruins dating back to the beginning of Athens civilization tucked into the vast sprawl of modern Athens with its glass and concrete office buildings.
The chaotic and frenetic traffic of Athens has been somewhat alleviated by the building of the new, efficient metro system which runs from the Airport just outside Athens, through the city and down to the port of Pireaus, gateway to the islands of Greece.
The Acropolis, famed throughout the world, rises above Athens and reminds the tourist of the power and beauty of the peoples of Greece in ancient times.
Beneath the Parthenon at its base, the area has been pedestrianised and is a popular haunt for romantic walks, especially at night when lighting dramatically emphasizes its majesty.
Plaka, the area beneath the Greek Acropolis is the oldest quarter of Athens and great efforts have been made to restore the area to emphasise the quaint and historical past of Athens particularly with the exclusion of traffic (which is problematic across many areas in Greece).
Plaka is the area to visit in Athens to find evidence of the beautiful examples of the Ottoman Empire. Among the great treasures to be seen is the 15th Century Fethiye Mosque, one of the finest examples of Muslim architecture in the City of Athens.
One of the other popular tourist haunts in Athens is Monastiraki in the centre of the city. Monistiraki is the bazaar to beat all Greek bazaars with everything you could wish to buy and plenty of eating houses to allow the tourist time for a break between purchases and to sample traditional Greek food.
Apart from the pre-requisite tourist T-Shirts and general tourist gifts from ash trays, ornaments and icons, one can wander and find true artisans of Athens, particularly leather goods.  There are a number of leather workers making and supplying goods from sandals to handbags. Many of these goods are traditional Greek goods.
Whatever the tourist wants when visiting Greece, Athens can provide it, from unlimited sunshine, wonderful food, art, culture, history and a lively nightlife.