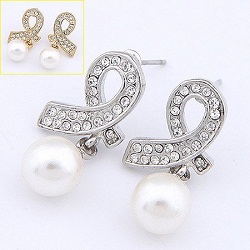 Algerians have a long history as makers of fine handcrafted jewelry. One of the most popular designs is the love knot.
While Celtic love knot jewelry is more familiar to Americans and Europeans, the traditional Celtic love knot has a triangular shape not usually seen in Algerian jewelry.
Celtic knots typically have pointed corners while white gold Algerian love knot necklaces feature round edges and more square or rectangular shape.
Designs in Algerian Jewelry
Unlike most Western jewelry which has a highly polished plain finish, Algerian pieces are typically engraved with geometric or floral motifs. Love knots are assembled as separate rings of metal and it is not unusual for each ring to have a different design engraved on it. Many designs feature a mixture of white and yellow gold using one color to accent the other. This may be in addition to the design engraved on the main metal ring.
The Bond Girl Necklace
In the James Bond movie, Casino Royale, bond girl Vesper Lynd (Eva Green), wore a particularly lovely Algerian love knot necklace. The one featured in the movie was made from sterling silver and yellow gold, but some enterprising jewelers have copied it to make a yellow and white gold love knot necklace. They have also designed some very attractive love knot earrings to match the necklace but those designs vary more between jewelers. The workmanship involved in making this particular style of necklace is high quality so they are fairly expensive.
White Gold Love Knot Necklaces
Most Algerian jewelers are craftsmen who prefer to work with precious metals, primarily gold, and love knot necklaces are available in all the marketplaces in Algeria. There are also mass produced white gold Algerian love knot necklaces available at jewelry shops and department stores in the U.S. and Europe. These necklaces are usually small and lack the details of real Algerian jewelry, instead have a plain high polish finish without any engraving.
Since the release of the movies Casino Royale and Quantum of Solace the popularity of Algerian love knot necklaces has soared. They are an excellent addition to any women's wardrobe as the intricate designs are the perfect accent to tailored Western clothing.
The plain polished love knots are very attractive even if they lack some of the style of more authentic Algerian designs and they can be found in retail stores both off and online. White gold Algerian love knot necklaces may be harder to find than silver or yellow gold necklaces but there are some available for those who shop around.