Algeria, much like most of Africa, was subject to European colonization in the 19th and early 20th centuries. Algiers, the capital, was taken over by the French in the 1830's even though the entire country did not totally come under French rule until the early 1900's.
Early Stamps
French stamps were the earliest postage. The stamp used in 1849 was a French stamp, and could only be discerned from postage used in France by the Algerie postmark. By 1924, French stamps with Algerie overprinted on the face were in use. There is a value of $10 US for the entire set of 32 stamps, whether they are mint, never hinged or have been used for postal service.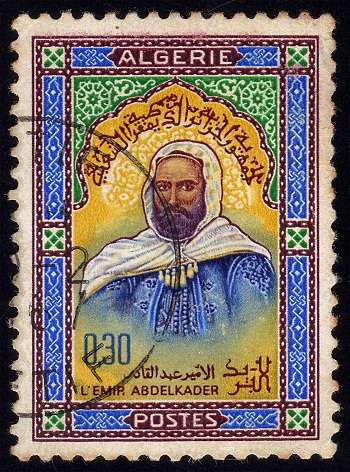 In 1926, stamps were first issued with the country's name. They are marked Algerie and can be recognized by the French design. French stamps were also used up until 1962 when Algeria became independent and started issuing its own stamps.
Most Valuable
Even the most valuable Algerian stamps are within reach of every collector. The regular issue stamp with the highest value is the 10 franc "Marabout of Sidi Yacoub" stamp, which has a value of $50 US.
Next in value is the Coat of Arms stamp inscribed "Republique Francais" which carries a value of $25 US. Most other pre 1970 stamps are valued at under $1, with a great number being at the minimum catalog value.
Post 1970's
As the stamps past 1970 have higher denominations, their value somewhat increases. Even so, the high value in sets is only a couple of dollars. By using internet auctions or stamp circuit books, you should be able to get a great deal on these.
Algeria's semi-postal stamps break that trend. Many of these stamps are valued at $5 and above. The total catalogue value for 115 stamps in this issue is about $325. By comparison, that amount would purchase all the regular stamps issued before Algerian independence including the $75 for the two most valuable stamps.
The Air Post stamps of Algeria are similarly expensive, although not as bad as the semi-postal stamps. The Air Post stamps average about $3 each, with the exception of the 20-franc "Plane over Algiers " semi postal stamp that has a catalogue value of  $150 in MNH condition.
Some of the other stamps may cost as much as $6, but there are a wide variety of Air Post stamps available for as little as $1 bringing the average down.
Overall, the Algerian collection offers a very affordable way to get your stamp collection rolling. If you are a novice at collecting, you might want to look closely at Algeria for your first country collection.