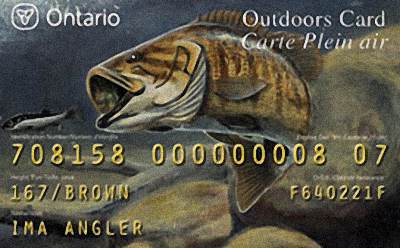 In order to engage in fishing activities in Canada you are required to have an authorized fishing license. This rule applies to locals as well as foreigners.
There are two main aspects to a fishing license in Canada.
The first of these is an Outdoors Card which comes along with the fishing license tag. These two can either be affixed together or accompanying each other.
Canada Fishing License for Locals
The rules and regulations of fishing licenses vary according to the individual and his particular citizenship. For example residents of Ontario are required to have an Outdoors Card which will give them permission to fish anywhere in the region. However the individuals seeking the license must be over 18 years of age and should not have crossed the age of 65. The plastic Outdoors Card comes affixed with sport fishing license tag as well as the conservation fishing license.
If you are seeking a fishing license for the first time in Canada then you can request for an application that will be mailed to you. In order to receive this application you need to call the Outdoors Card Centre on their UAN number. Once issued your Outdoors Card is valid for the next three years.
For residents that want to engage in fishing right away they need to acquire a resident temporary fishing license and outdoors card and application. There are over 1800 license issuers located across the province. It is important to know that this kind of license is only a temporary paper license. However it enables you to engage in fishing activities immediately. The valedictory of this temporary license lasts up to 31st December of the year in which it has been issued.
In case your fishing license is set to expire soon you can call the Outdoors Card Centre to have your license renewed for a continued three year period using a credit card. Alternatively you can have your license renewed through their website.
Canada Fishing License for Non-Residents
Non-Canadian residents over the age of 18 are required to apply for an Outdoors Card in order to participate in fishing in the region. Like it is in the case of residents, the Outdoors Card will be accompanied by the sport fishing license tag along with the conservation fishing license tag.
The validity of the fishing license for nonresidents can vary between eight days to one year. For non-Canadians looking to fish in Canada for the first time there is a "Non-Canadian Resident Temporary Fishing Outdoors Card and Application" that they will need to acquire from one of the many license issuers. This application does not include the fishing license tag rather it has to be purchased separately as a paper permit.
The temporary license is effective immediately for nonresidents. However you will have to wait till the end of the year for your Outdoors Card to be mailed to you. This Outdoors Card will be valid for a period of three years.