Every year, many people around the world like to go for a vacation in order to rejuvenate themselves on sunny islands like Jamaica. Planning a trip requires a serious consideration when you have to plan for your budget.
Arranging for finance requires looking at several factors like the type of hotels you want to stay at, transport required for sightseeing or food plan that you want to avail. Another important factor that is to be considered is the time, whether it's a peak season or off-season. Depending upon the time, airfares also vary. Here, you will find a few tips that will help you to bid a trip to Jamaica.
Specialty Of Planning A Trip To Jamaica
However, planning a trip to Jamaica, known for its incredible destinations like Negril, Montego Bay, Kingston and Ocho Rios, is different from planning a trip to other locations of the world. You can win a trip to Jamaica by placing a suitable bid at a travel auction site and you can purchase a plan at a discounted price.
In order to get the best value for your deal, you should adopt a bidding strategy for purchasing a trip to Jamaica. Here are few suggestions that will help you in making right decisions while planning a trip to Jamaica.
Step 1 – Find A Travel Auction Bidding Site
Take your time and conduct a research to find a safe bidding site. You can refer a governing body website to find the details of a bidding site. Check the types of services it offers to its customers. Also, see whether such a site has any complaint lodged by users in the past. If you find that there is no such dispute, you can assume it be a safe auction site. Also, you can consult your friends or peers for getting references on bidding sites and ask about their experiences while availing services from such site.
Step 2 – Get A Proper Idea Of Bidding
After you have selected a safe portal, you should do some homework and find out information of recent bids to have a clear idea of prevailing prices. Extremely low quotes will prohibit you from winning a trip.
Step 3 – Fill In The Necessary Information At Bidding Portal
After you have opened a resource link, click at bidding menu. Enter the name of the starting destination and then enter the name of a Jamaican city, where you wish to spend your vacation. Do not forget to mention the number of visitors joining a trip. Choose the number of rooms wisely and then click at bidding button.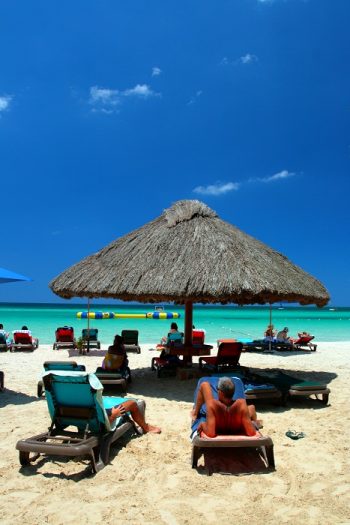 Step 4 – Select The Type Of Hotel You Wish To Stay At
Select the type of hotel where you wish to spend your vacation. You can find different types of hotels based on star rating. As per your affordability, click at a suitable option.
Step 5 – Choose A Vacation Rate
You should bid on the price of your vacation. Some sites allow you to bid on a vacation treating as a package including hotel transfers and airfare.
Some travel auction sites will allow you to place your bids separately on hotels and airfare. Enter an amount that you are willing to pay per night.
In order to win a bid, beforehand, check the recent quotes, so that they will give you a fair idea of current market prices.
Step 6 – Look At Reservation Summary
Type you name and proceed ahead. At the next page, you can find a reservation summary showing various details like location of stay, numbers of days for lodging, price per night, check in and check dates and overall cost of trip including taxes.
Also, you are required to read the terms and conditions of the bidding site before proceeding to next level.
Step 7 – Enter Your Bank Details
Finally, enter your bank details including credit card information and your address for correspondence in order to bid. You will get an instant alert about the proceeding via email. In some cases, you may receive a confirmation mail within one to two days.
In case you find that your bid has been cancelled, you need to revise it further. You should try to find reasons for such happening. Think twice before making a second bid. Many sites put restriction on number of bids that a person can place in a day.
Once your bid is accepted, you will be charged through your credit card and you will receive a copy of vacation summary through email.
These are the steps that you should follow while placing a bid for purchasing a vacation plan for Jamaica at a travel auction portal.
After winning a bid, you have landed at Jamaica and boarded at a hotel. The next question arises, where will you spend your vacation? Here are names of some of the incredible destinations where you can collect memorable experiences and compel you to visit again.
Attractions Of Montego Bay
Doctor's Cave Beach Club
Doctor's cave beach is a well-maintained beach, where you can have glimpse of still turquoise waters. Once you enter the club premises, you can enjoy you vacation with best amenities available here.
Dunn River Falls
While it is possible for your spend all your time at white sand beaches of Jamaica with the cool turquoise water gushing through your feet, you can enjoy other options too. There is a haven where the fresh rainwater sips down stone terraces cutting right through the dense Jamaican rainforest and recedes at the Caribbean sea.
Dunn Hill river falls is spectacular in its senses and you should not miss an opportunity of making a trip to such waterfalls. Each stone terrace has pools of clam fresh water for wading and relaxing yourself.
Rockland Bird Feeding Station
This is a place situated at the outskirts of Montego Bay. Therefore, you need to hire a cab for visiting this place. At this place, many humming birds come here in search of food. You can enjoy yourself by feeding these birds. You can have an amazing experience.
"A Must" Places To Visit At Negril
Marguaritaville Bar And Grill
An ideal place to hangout during daytime and an electrifying haven to dance when the night sets in. This is a place for anyone searching for entertainment along with a lively ambience and great drinks.
During daytime, tourists can enjoy international or local sporting events aired at giant TV screens surrounding the open-air seaside bar or groove with reggae tunes from a CD jukebox.
Sunshine Shopping Mall
Sunshine shopping mall offers a number of shopping spots, where you can purchase clothing, souvenirs or Jamaican crafts items for your family and friends. At such supermarket, you can avail facilities of internet and you can even book excursion tours from travel points situated at ground floor.
At the second floor, you can visit a cafeteria offering you with mouth-watering platters. From this place, you can have a natural view of Negril beach while fulfilling your gourmet needs.
Rockhouse Bar
Rockhouse bar is the best place to hang around. You can enjoy Cliffside dining and watch the sun setting in the horizon. Enjoy movies projected in white screens of the lounge area or try your hands at table games from sunken sofa seats lying around to care of your comfort. There is an open air bar serving all kinds of drinks catering to your taste.
Tourist Attractions At Ocho Rios
Green Grotto Caves
This cave bears a long history to go. This place was a reputed hideout for runaway slaves escaping from the atrocities inflicted by British. Green Grotto caves once became the backdrop for a Bond movie. Tourists can experience the beauty of stalagmites and stalactites at these caves as well as an underground lake.
Nine Mile
It is an ideal place for music lovers. The small village of Nine Mile is the birthplace and resting place of music legend, Bob Marley. Visitors can visit a small museum suited at Nine Mile and they can include mausoleum in their itinerary, where Bob Marley was buried.
During the entire tour, tourists can learn about the Rastafarian religion and listen interesting stories of Bob's extraordinary life.
Rainforest Bobsled Jamaica
Rainforest Bobsled Jamaica suited at Mystic Mountain is one of the greatest tourist spots of Ocho Rios.
Visitors can climb up the mountain on a chairlift. You can also experience Rainforest SkyExplorer and enjoy incredible views of coastline and cruise ship port below. Once you reach the top, you can cruise down the mountain on Bobsled Jamaica, which is a single man roller coaster ride, filling you with excitement.
Attractions Of Kingston
Blue Mountains
Blue Mountains are the longest mountain ranges on the island, including its highest point, Blue Mountain peak, that is 7402 feet high. You can climb the peak to have an excellent view of both the South and North coasts of Jamaica.
Devon House
Devon House is a national monument that represents the cultural diversity of the island. Every year, thousands of visitors make foray to visit this place to learn about its history. This monument was built in the nineteenth century in the honor of a Jamaican millionaire, George Stibel.
This place is famous for ice cream lovers offering twenty seven natural flavors of ice cream that include sour sop, Devon stout, coconut coffee and much more.
Port Royal
Port Royal is located at Kignston harbor. It was founded in 1518 and facilitated shipping activities until it was destroyed by an earthquake in 1692. It was a home for sea pirates. The old pirate hideouts are now converted into museums. Among the other attractions, you can visit Fort Charles.
National Gallery
National Gallery is a house of leading art collections of Jamaica. The gallery features various important artworks of Jamaican artists like Carl Abrahams, Cecil Baugh and Edna Manly. Edna Manly is known for her sculptural works. The museum also houses works of international artists.
Mavis Bank Coffee Factory
This is the integrated and the largest coffee facility in Jamaica. It was established in 1923 on 5 acres of land. Approximately, 1.4 million pounds of coffee beans are processed here.
You can take a tour around the factory to have an idea of coffee processing and develop a new sense of appreciation for Jamaican coffee industry.
Hope, after reading this article you can have a fair idea of places to visit at Jamaica after winning a bid. Wish you great time ahead.