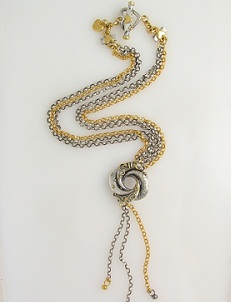 Want to know the history behind the Algerian love knot? Read our guide for more facts & information…
The knot is an ancient mystic symbol that dates to pre-history and different types of knots may have been traded between early sailors.
The location of Algiers, on the Mediterranean Sea, made it a likely place for sailors to live, work and visit. In most cultures, the knot is a symbol of fair weather, love, good health and mystical spirits.
The triangular knot favored by the Celts was used as a symbol of ancient Christianity referring to the trinity and may have been a symbol of the three goddesses in even earlier civilizations.
Love Knots Were Carried by Sailors
In the eighteenth century sailors often wore or carried love knots to remind them of loved ones waiting for them at home. It was at this time that love knots became a popular item of jewelry and were made in precious metals, although the sailors' love knots were made of rope or twine which they tied themselves.
Two or more pieces of rope were joined together to form the knot. In jewelry the knots are usually formed from three or more rings of metal wire or tubes which are flattened into the design.
Algerian Love Knots
Unlike Celtic love knots, Algerian love knots are not usually triangular in shape and most contain at least 4 rings. The rings are often inscribed with Arabic symbols to add to both the design and the meaning of the necklace.
Although it is called a love knot, the knot may also be a symbol of eternity since it has no beginning and no end. It is not reserved as a gift to a lover, but may be given to a mother, sister or friend. Rather than romantic love, the knot necklace is a symbol of all types of love.
The Algerian Love Knot Necklace in Casino Royale
In the movie Casino Royale, Bond girl, Vesper Lynd played by Eva Green, wore a beautiful Algerian love knot necklace designed by Sophie Harley. The necklace created quite a stir and was featured in a sequel movie, Quantum of Solace.
The necklace in the movie was created from 4 sterling silver rings with raised gold decorations and 3 chains which dangled from the knot. In response to the sudden demand for Algerian love knot necklaces, many fine jewelers began featuring replicas of the necklace and it is also available in non-precious metals from costume jewelry designers.
The love knot has similar mystical significance and meaning in many cultures. Most common among seafaring nations, the knot may symbolize the eternal nature of human love, or be used as a protective device against evil. The Algerian love knot has beautiful and intricate designs and makes a wonderful addition to any women's wardrobe.