There has always been a demand for lamps and there probably always will be. The overlay types in particular have long been popular. The name comes from the fact that they are so-called "case" glass, which is made in two or sometimes three parts.
A lamp bowl may be opaque-white on the outside and a clear jade-green on the inside. When cut through, allowing the color to be seen by way of the various cuttings, an attractive effect is obtained. In the old days this glass was expensive to make so these lamps never were very cheap.
About twenty-five years ago, overlay lamp bowls were imported from Czechoslovakia which could be set in either modern or old bases.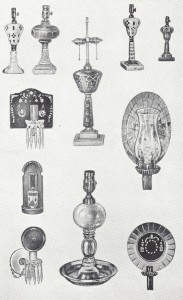 The complete lamps also came here via the same route. Apparently it was cheaper to obtain the glass-ware from the Czechs than it was or make it on our own shores. Naturally, those lamps with cut stems as well as bowls cost a great deal more. On Plate 111 may be seen some of the new lamps that were marketed years ago. On the same page are wall sconces which were sold during the same period and also one style of peg-lamp.
Lamps in the old Sandwich heart pattern were reproduced during the 1920′s in clear glass, green, amethyst, pink and possibly other colors. They looked new. One is illustrated on Plate 112 along with a pair of reproductions of an earlier style of Sandwich lamp. The latter are very good copies and might deceive even careful buyers unless they were studied with extreme care.
All the genuine old lamp collars of the period are of either brass or pewter. On this pair of lamps the collars are treated or resemble discolored old brass. If the lamps were really old the bases would bare some resonance when struck, even if only a little, because the glass is too thick to ring clearly. lf you struck one of those in the illustration, you would hear that dead thud one soon learns to associate with all the reproductions now on the market.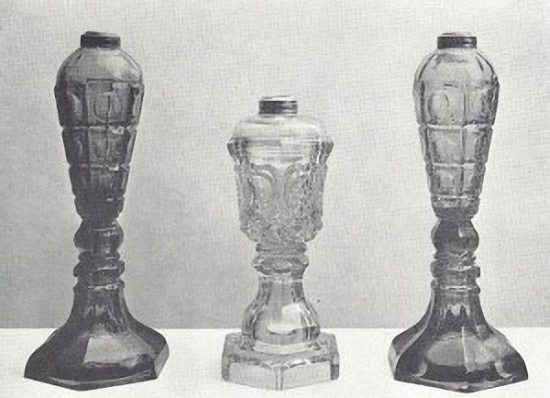 On Plate 113 are two other styles of lamps which have been on sale for some years. The one on the left at first was made in clear glass only. Later copies were made in color.
Six types of the new varieties that are selling today are shown on Plates 114 and 115. These range in height from nine to fourteen inches. Those with the engraved deer, as well as the smaller Grape pattern, are after the manner of the old ruby Bohemian glass.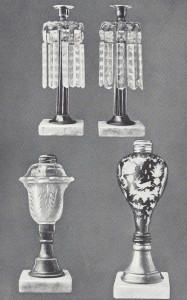 Stems and bases have the "antique finish." The lamp with the leaf pattern bowl (Plate 115), which was a favorite design at Sandwich, can be obtained in either clear glass or with a frosted finish. Doubtless these have also been made with colored bowls.
The overlay lamp at the left in the upper row of Plate 114 is in amethyst, cut to clear, and is quite beautiful. The other overlay lamp on the same page is made in blue or ruby, over crystal.
All these are sold by the maker frankly as reproductions. The harm they do is when they find their way into antique shops to be sold at the high figures commanded by old ones. Another new marble base lamp on the marker carries a round bowl in Inverted Thumb-print.
During the early 1940′s, a "miniature night lamp" appeared on the market, in the Moon and Star pattern. The listing of this pattern in my Early American Pressed Glass may be considered quite complete because it was taken from a catalogue of the makers, Adams & Co., of Pittsburgh.
This catalogue does not mention miniature night lamps. Upon examination, it is found that the so-called miniature lamp has been formed from the reproduction Moon and Star eggcup mold.
The lamp is three and one-half inches high and two and three-guarrers inches wide at the widest part. The footed base is two and one-half inches wide. The glass opening at the top, where the brass collar is cemented on, is barely wide enough to insert a lead pencil.
The brass collar and burner of one such lamp has been corroded by the use of some solution or acid to give it a greenish or "antique" appearance. The wick was new, freshly kerosened and had been lighted at least once.
Traces of what looked like fresh plaster of Paris could be seen around the brass collar. The same style collars, burners and glass chimneys have been on sale by a house carrying many reproductions in the Midwest! The base of the lamp had also been ground to simulate wear. Such a lamp is not a reproduction, because it was never made in the old glass.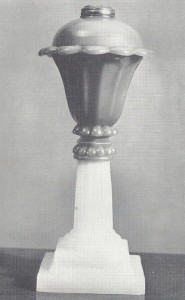 Even so, they are being sold to collectors as old and advertised at $6.50, $7.50 and $10.00. Lately a new Moon and Star miniature night lamp was seen in amber, complete with a matching amber shade, also in the Moon and Star pattern.
At the time when our markets were being flooded with Westward-Ho goblets and sauce dishes, a new lamp was made from the goblet mold. The counterfeits were planted in the deep South, but evidently were not made in quantity since they have not been seen in the East. Plate 116.
Not long ago an early Sandwich lamp was sent to me for examination. It was obviously new, and bore marks of carefully applied "age" designed to deceive the purchaser. The lamp is pictured on Plate 117.
It is eleven and three-quarters inches high and is merely an improved model of the one shown in the lower left-hand corner of Plate 113. The opaque-white in the square base and pedestal is an unpleasant yellowish-white.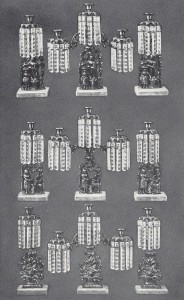 The opaque-green in the bowl is also off-shade. The collar bas been dented in, presumably by a hammer, in such a manner as to give a realistic appearance of age. The collar also has been treated with a solution which contributes to its antique appearance. The same copy has appeared in several different color combinations.
During the past five years, which saw the end of wartime shortages, certain manufacturers have been expanding their facilities and as a consequence, almost every conceivable type of novelty lamp is now being displayed in department stores and gift shops. Not a few are also in antique shops. These lamps run the gamut from late Victorian "Gone with the Winds" to miniature night lamps.
A number of years ago there was a great interest in girandoles, but that interest died out and a good many dealers rook losses when their popularity waned. Old-timers remember the day when brass candlesticks were in great demand and dealers and collectors were forever on the watch against copies but today no one thinks about the reproductions, for collectors seldom ask even for originals.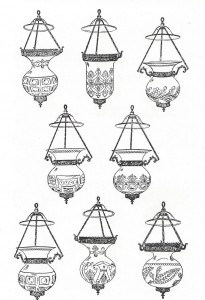 On Plates 115, 118 and 119 are shown candlesticks and girandoles as they were presented during the 1920′s and 1930′s. Good old ones were of fine French gilt but most of the newly made sets are of brass, ready to receive an "antique finish" intended to stimulate interest in collectors. A few patterns besides those shown are also made.
Hanging lamps, particularly for halls, are in great demand by home builders. They have always been a scarce item. On Plate 120 are shown many styles of new ones which have been sold in New England.
The bowls were advertised as hand blown and hand cut, and apparently great care was given to secure correctness of design and workmanship. They may in time become good antiques.
Fitting out lamps has always been a problem because it is often well-nigh impossible to find the proper globe to fit. Various manufacturers have been making copies for years.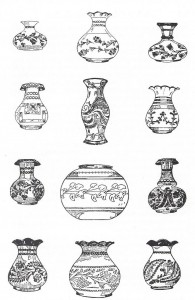 On Plate 113 are two styles which have been on the market for at least fifteen years. They were made for the old-style astral lamps, because the fine old shades broke so often. On the same plate is shown a hurricane globe. Many new ones are made now, one of the most attractive having an eagle engraved on it.
Some years ago I was in an antique shop in Philadelphia, discussing reproductions with a dealer who has watched them with more than usual care for many years, both here and abroad.
He said a woman came in to his shop not long ago, and asked about a pair of old hurricane globes.
When she heard the price she nearly swooned, for it was several times more than she had paid for some a short time before. She told him he was a highway robber and, in the course of the conversation, described her magnificent globes with eagles on them.
"Would you care to tell me what you paid for them?" the dealer asked politely. "I paid," said the customer, "seventy-five dollars." "Would you like me to sell you a pair exactly like them for thirty dollars?" he asked again. She told him she would not. She was quite content with her bargain.
Plate 121 shows a dozen different types of new lamp shades which have-been on the market for at least twelve years, but for these you should not pay the price of old ones!