Taking off the trodden trail in a caravan is an excellent way to explore New Zealand. With alluring beaches, snow covered mountains, gushing rivers, splendid lakes and volcanic pools, the small country has plenty to offer.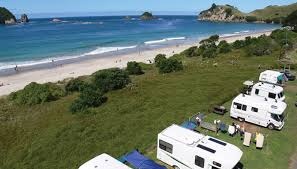 As the roads are good and easily traversable, a caravan trip is very easy to access the holiday parks and camping grounds of New Zealand. You can simply park your van at any waterfront caravan park and enjoy the sight of crashing waves with your loved ones.
However, it is essential to plan a trip before setting off for the vacation. Some of the important things that should be kept in mind are stated below.
Step 1 – Choosing a Perfect Caravan
Seeking for an ideal caravan is as thrilling as seeking for an ideal house. As the caravan is more like a home on journeys, it becomes imperative to choose one that not only provides you with amenities but also suits your budget. Single axis conventional caravans are the most popular ones generally used by travelers.
Compact Caravans – These caravans are small and good for accommodating a couple;
Full Caravans – Unlike the compact ones, these caravans are large and roomy with beds, kitchen, shower and toilet;
Fifth-Wheel Caravans – These are the luxurious ones that broaden over the hauling vehicle providing ample space for the dwellers;
Pop Top and Pop Top Expandable Caravans – As the name suggests, the pop top caravans have roofs that can pop up while the pop top expandable caravans have expandable sides that pop out enabling more space for beds.
Step 2 – Safety Checks in a Caravan
A few safety checks of the caravan are worth considering before starting any trip.
Firm Safety Chains – It is essential to check the hitch or coupling and ensure that the safety chains are placed firmly;
Right Fluid Levels – You must make sure that the brake fluid and oil in the RV are at accurate levels;
Secure Gas Outlet – In order to avoid gas leakage, turn off the gas outlet prior to starting the journey;
Closed Doors and Windows – Before setting off, you must be certain that all doors and windows are shut, cupboards are closed and fridge is locked too.
Step 3 – Travel Documents
The chief documents that are required are passport along with a valid visa, international driving license and last but not the least caravan insurance. Perhaps, you can check different insurance schemes of insurance companies in order to select a good policy.
Step 4 – Camping Checklist
You can take some time out in advance and prepare a list of all your vacation necessities. Here are some essential items that will certainly help you in doing so.
Sleeping Requirements – Sound sleep is much desired in any trip. You can carry pillows or sleeping bags according to your comfort. Apart from these, blow-up mattress with the pump is an essential item to carry in a caravan.
Food and Water Supply – Good food adds more excitement and fun to a caravan trip. It is better to have adequate supply of food. If you wish to cook food all by yourself, then you need to be sure that there is sufficient cutlery, pots and plates for preparing dishes. Do not forget to pack lighter or matches if you are have a gas cooker. Make sure that the supply of drinking water is adequate.
Map and GPS Guide – A proper map of the country is imperative for a caravan trip. In case you are interested in trekking, you may require a compass too. On the other hand, you can also carry other gazettes like camera, web cam and phone chargers.
Main Camping Toiletries – Do not forget the essential toiletries that will be required on a daily basis like toothbrush, toothpaste, toilet papers and insect repellents. You can also take some accessories like hats, sunscreen and sunglasses that can be used while taking long beach walks.
Tent Camping Equipments – If you are in a mood for tent camping, then you must carry all the vital equipments you need like poles, pegs, ground sheet and a mosquito net. However, a tarpaulin is also an essential carry item for the caravan trip.
First Aid Kit – Carrying a first aid box is better for any journey. All medicines required during emergency should be included in the medical box.
Step 5 – Pets in Caravan Trip
If your pets are accompanying you on several road trips, then it is advisable to carry all the food items and equipments that are necessary for your pets. A small checklist for pets is given below.
Provision of food bowls and proper supply of food and treats;
Pet equipments for grooming like shampoo and brushes;
Warm clothes like coat and blankets if required;
Plastic bags for sanitation;
First Aid kit for pets along with vaccination papers;
Lead and Collar.
Step 6- Beneficial Tips on Towing a Caravan
Overtaking on the Roads – This is an important feature of safe driving. As the length of a caravan is added to the overall length of the vehicle, the total length must be considered while entering traffic and overtaking vehicles. Perhaps, it is better to maintain speed limits on the roads.
Parking the Caravan – Owing to the length of the vehicle, parking can be a tedious job. It can be risky to use reverse gear while parking with an attached caravan. In order to avoid this, it is advisable to drive straight forward out of parking spots.
Swaying of Caravan – As the weight of the caravan is added to that of the car, driving becomes difficult in high-wind regions. It is also affected by cross winds that arise from other big vehicles. However, you can install a Weight Distribution Hitch to level out the distribution of load. This prevents the caravan to sway against winds.
Towing Capability – Do not forget to check first the towing capability of the vehicle before setting off for a caravanning holiday. You can find the real towing capacity of the car in the vehicle manual. If the car is not robust and tough enough to draw the additional weight of the caravan, then it is good to borrow a stronger vehicle from your friend for a caravan trip.
Safe Drive on Roads
Always drive on the left side of the roads;
Adequate rest is important before any road trip. This is necessary particularly after long flights to New Zealand;
It is essential to drive within restricted speed limits;
Wearing a safety belt is mandatory for both driver and passenger;
Using a mobile phone while driving is illegal. However, emergency call 111 can be made.
Step 7 – Planning Your Route
Trip to an unknown destination is adventurous. It is important to plan and organize your routes before starting the trip. As there are many places to visit in a short period of time and that too in a limited budget, it becomes necessary to decide the course that will not only save time but also be safe. You can either enter the main city first or drive down the countryside in the direction of lakes and rivers.
Camping and Holiday Parks
New Zealand is blessed with several camping grounds. Also known as holiday parks, these sites are ideal for picnics and vacations. Sited on most exotic locations, these camping grounds provide the best accommodation that will definitely suit your style and budget. You can park your caravan and explore the beauty of these splendid locations.
Exotic Destinations
There are various beautiful locations in New Zealand that are worth visiting. One such destination is Kaikoura. Located on a hilly terrain that faces the Pacific Ocean, the region is widely known for its picturesque landscape and eye-catching mountain views.
If you are looking forward for some exciting land and sea adventures, then Kaikoura is the perfect place for you. You can enjoy trekking, bungee jumping, fishing and swimming. The Alpine Pacific Holiday Park in Kaikoura is one of the popular holiday parks in New Zealand that offer excellent amenities to visitors like exquisite cabins, motels, tent sites with good parking facilities, spas, heated pools and other such facilities.
Step 8 – Best Time to Visit
Summer is the best time to visit New Zealand. The climate is pleasant between December and March and the rivers and lakes are safe and secure for swimming and other water sports. On the other hand, if you wish to travel on a budget, you can visit the country in the off season when rental prices are quite less and the South Island is not much crowded.
These are some of the basic tips on how you can plan your caravan trip to New Zealand. So, what are you waiting for? Pack your bags and explore the adventure, fun and leisure.