A French twist hairstyle is perfect for formal occasions such as weddings, graduations, proms and other ceremonies.
Advantages French Twist Hairstyles
The best part about this hairdo is that it doesn't take too much effort to style your hair into a French twist yet it looks very sophisticated, elegant and chic. Everybody from royalty to Hollywood celebrities has sported this hairdo. It is also the most popular hairdo when it comes to wearing your hair up.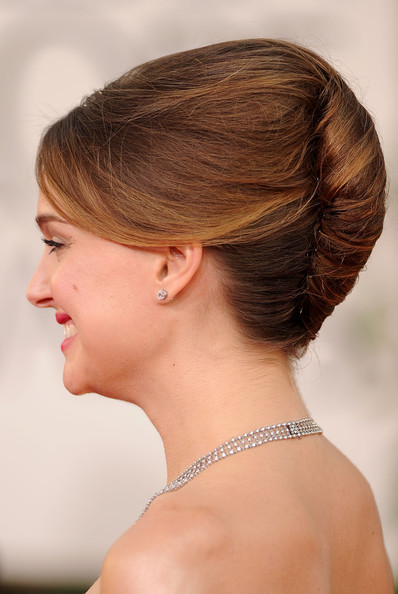 Another advantage of this classy hairdo is that ladies with medium length to long hair can conveniently wear this hairdo.
Even if you have short hair you can still opt for this hair do but you may have to opt for some faux hair and a few strategically placed bobby pins and you should be good to go.
The French twist is also the perfect hairstyle for hair accessories even though it is so classy that it doesn't need any. But you can easily wear a tiara or other hair ornaments at the back of your head with this hairdo.
This is also a very versatile hairdo and you can wear your hair up or down as you wish. You can also go for the pulled back tight look or for people with soft hair you can induce volume with the use of a crown or use hair accessories to get a French twist or roll of your choice.
How to style your hair in french twist
To style your hair into a French twist start by smoothing the hair back from your forehead- you can use a comb or brush for this. Next make a pony tail out of your hair that rests between the crown of your head and he nape of your neck. This pony tail should be slightly to the left and not exactly in the center of your head.
Now twist the ponytail twice in the clockwise direction. Use your left hand to hold the tip of the pony tail while the upper end of the pony tail should be held in the right hand. Next with the right hand still gripping the top of the pony tail start folding it from the top down in the lower direction. You will have to fold the complete ponytail under itself in the downward direction.
Once you are done with take the tip of the pony tail and curled it. There should be a gap between the ponytail and your hair. Now with your right hand push the folded part of the ponytail into this gap.
Keep pushing the hair till the entire folded pony tail is inside the gap and you cant push anymore hair in. You can use some pins placed to the right of the fold to form a seam. Start pinning from the bottom up. Finally finish with a spraying of hairspray for a long lasting hold and you are ready for your big night out.