Swedish blown glass makers have a long and distinguished history that stretches back for centuries. Yet blown glass making, as developed and refined as it is in Sweden today, was initially an imported skill and not native to Sweden at all.
Nowadays the world-renowned blown glass creations from Orrefors, Kosta, Boda and the other glassworks in Sweden's Småland Province have earned that province the unofficial title of the "glass kingdom".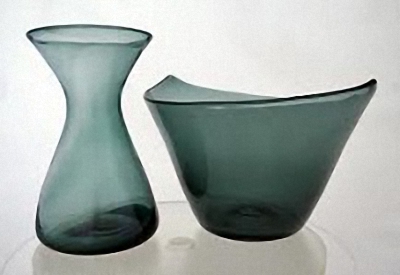 The counties of Kalmar and Kronoberg in Sweden have given rise to a number of world famous glassworks. An ambitious tourist might be able to pay most of them at least a cursory visit in a single day.
Glassworks that eventually produced hand blown glass started out as ironworks in certain instances. Kosta Boda is just such an enterprise. The county governors Koskull and Stal were the enterprises founders. They were also retired generals of the Swedish Army. They combined the first few letters of their last names to form the Kosta in their company name. Kosta Boda, in particular is referred to as the mother of the glass industry in Sweden, partly because many people who went on the contribute in the industry received their initial training there in the 19th century.
The company called Orrefors has a longer corporate history than Kosta Boda, but it clung a little longer to its origins in iron making and didn't start to produce blown glass products until very near the beginning of the 20th century. In keeping with its utilitarian origins the initial product offerings were practical items like jars and inkpots.
That changed over time as people working for Orrefors began to realize the potential inherent in glass for creating products that were carefully designed for aesthetic as well as practical purposes. When the artists Simon Gate and Edward Hald came on board around 1917 the corporate direction took a decidedly creative turn. In fact a Simon Gate creation called the Bacchus Bowl garnered a first prize at the 1925 Paris exhibition.
A glass museum started by Orrefors chronicles the history of blown glass manufacture and the creation and development of the art form. The story extends from pioneers in the medium of blown glass like Hald and Gate to contemporary artists who still seek to add their own artistic signatures to the blown glass products of today.
Gunnar Cyrén, one the premier designers in all of Sweden has created a stunning series of glasses featuring hand-painted details in pure gold. This service has been honored by being selected as part of the Nobel table service. It can be viewed as well at the Orrefors museum.
At least a half million visitors per year partake of the exhibits and shopping opportunities available at the museum site.