Lake Guntersville State Park is such a complete resort and nature park that it doesn't easily fit into any of the categories that most people might think of when describing a state park. You can grab your backpack and claim one of the primitive campsites tucked away in a stand of tall pines, or book your business group into the park hotel.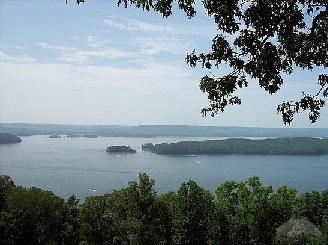 Maybe a cozy weekend in one of the ridge-top chalets with their beautiful panoramas of the lake, or a snuggle in a lakeside cabin is what you were looking forward to.
You can take a challenging hike up Taylor Mountain or an interpretive nature trail along the lake's shoreline, or maybe you just want to relax at the lake-side beach and picnic area on a day-trip with the family. All that, and more, is available to you at the spectacular Lake Guntersville State Park. And don't forget to save time for a round of golf at the park's 18-hole championship golf course.
Located on the shorelines of the Tennessee River, in NE Alabama, Lake Guntersville State Park has over 6000 acres of the very best nature has to offer. The list of available outdoor, (and indoor), activities is so varied and complete it's difficult to know where to start.
Outdoor camping choices range from primitive campsites tucked into secluded areas, to beautiful, and level, full hook-up RV sites lakeside. Hiking opportunities are equally varied. With over 36 miles of combined trails, you can choose a short 30 minute lakeside ramble, an instructional interpretive nature walk. with or without a guide, or you can lace-up your boots and take one of the more challenging trails to Taylor Mountain or one of the seasonal waterfalls in the park.
Horse and bike trails are also available. Lake Guntersville, (it's actually a reservoir), has plenty of shoreline, and a swimming beach, for water activities. The amenities and facilities for day-trippers or group excursions are top-notch, and so complete that you only need to bring your own towel. (or golf clubs)
The specific details of the park's offerings are staggering. The 112-room mountain-top hotel has its own restaurant and convention facilities, capable of handling everything from business events or banquets to weddings. The gorgeous view from the hotel overlooks the 69,000 acre Lake Guntersville Reservoir and is included free. Business break-out rooms and professional staff support make business events a snap. The available day activities: championship golf course, swimming beach on the lake, boat rentals, playground, group picnic area, pavilions, bathhouse and comfort stations, and easy lakeside strolling and nature paths round out the group experience.
Lake Guntersville State Park has 19 mountain and ridge-top chalets that give you that feeling of cozy privacy while still offering their stunning view of the lake from your own wrap-around porch. Their 15 lakeside cabins also provide scenic views of the lake, and they allow you to choose to stay snuggled and enjoy the view, or step outside and wander the lakeside paths. All the chalets and cabins include the expected modern conveniences that ensure a comfortable stay.
Outdoor camping at the park is full of choices. There are 321 improved campsites that range from modern, and level, lakeside RV sites, and tent sites with water and electric access, to primitive backpack sites tucked away in the pines, or lakeside. Camp site amenities like: hot-shower bathhouses, comfort stations, picnic tables and grills, shelters and pavilions are scattered throughout the camping areas.
Hiking at Lake Guntersville State Park can be almost any type of adventure you want to make it. There are over 36 miles of combined trails. Ranging from as short as ½ mile up to 3.5 miles. Most of the trails cris-cross each other so that you can structure your hike to be as long or short as you want. This also allows you to create a personal hike that can have varying degrees of difficulty. The easiest trail would actually be more of a walk … using the wandering paths that wind along the lake's shoreline. Next would be the interpretive nature trail, at ½ mile. The more challenging hikes might be the Old Still Path and the Moonshine Trails. Mix these with the many intermediate trails that connect to form a park loop and you could do the full 36 miles if you wanted.
The park is a great place for bird watching and Fall foliage color tours too. They have several "Eagle Awareness" weekends with guided hikes to known Bald Eagle nesting areas. There are 3 sites on the North Alabama Birding Trail that lie within Lake Guntersville State Park. Frequent sightings of many sought-after species include: Red-necked and Hooded Grebes, Red-breasted Mergansers and even some Gadwalls. The Fall foliage tours through the nature and intermediate trails present a palette of nature's colors that is unsurpassed in the region.
Leaving the day-tripper and group excursion activities for last was not an oversight; this resort park is so complete an itinerary of activities could almost be endless. The day activity facilities are excellent. A complete playground for the kids within steps of picnic tables with grills, a pavilion, covered shelters, comfort stations, walking paths, and the swimming beach on the lake. Water activities include swimming and all types of boating, (the shoreline includes private and park watercraft rental availability). Besides the guided nature trail there is a park nature center with narrated sessions and species examples on display. And there is even a general store for souvenirs and those forgotten items.
Lake Guntersville State Park lists itself as a complete resort. It lives up to the description. Your visit to this jewel in Alabama's State Park system will be sure to leave you anxious for a return trip.