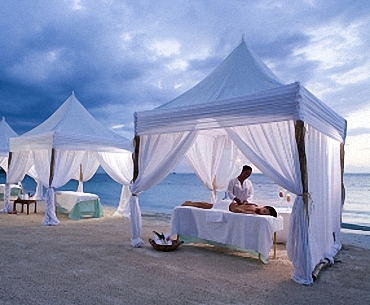 The idyllic Caribbean island of Bahamas has many enchanting spectacles for tourists.
Among the many attractions of this dreamy island nation, wellness centers and spas in Nassau and other cities in Bahamas are famous for offering soothing comfort to body and mind.
They offer a baffling variety of pampering massage therapies, using wide range of luxurious cosmetics and toiletries, to give the tourists the ultimate experience in relaxation.
Types of Massage
It will be really not easy for the newcomer to choose from a range of massages offered here.
There are the usual whole body and deep tissue massages, body wraps and scrubs, detoxification, and anti-ageing treatments.  Besides aromatherapy, hot stone massage and energy healing techniques are also available.
Adventurous travelers can choose special types of massages and relaxing techniques like Swedish massage and yoga too. A notable feature of Bahamas is a special massage therapy, unique to this region, which combines the best of ancient traditions from Caribbean, Africa, and Asia for relaxation and rejuvenation.
Massage parlors in Nassau
Massage parlors in Nassau differ in size and service, from those operating within hotel premises as an additional amenity to guests, to specially designed luxury spas spread over a large area.
Some parlors operate as independent enterprise. Many popular masseurs also offer mobile and outdoor massage near the beach front or even in the hotel room of the customer to ensure total privacy.  All the massage parlors are known for elegance, finesse, comfort, and cleanliness.
Beach Massage in Nassau
It may appear to the uninitiated that massages are usually carried out indoors.
First time visitors to Bahamas may be surprised to know that outdoor massages are quite popular here. They may wonder if such outdoor massages ensure privacy.
Beach massages are offered in different cities all over Bahamas by well-known massage therapists. They function under a large canopy, away from regular pathways and prying eyes, thus ensuring privacy to clients.  It is advisable to fix up prior appointment to avoid waiting at these popular centers.
Cabbage Beach Massage
Cabbage beach, located at the north of the Paradise Island, right next to the Atlantis private beach, is one of the most beautiful beaches here where tourists can enjoy beach massage. You can easily get a taxi to reach here, after getting off the ship. However, this beach is not much safe if you get in the water, because of huge waves and terrible current.