French doors are known for their captivating look and their reflective design, which create a pleasant atmosphere in the interior.
Regardless of their location, curtains are the most preferred way of dressing up French doors. Sheer curtain panels are typical window dressings for the door, as they pretty up the door and can be used in combination with other dressings for functional purposes. The following paragraphs discuss about Velcro curtain panels for French doors.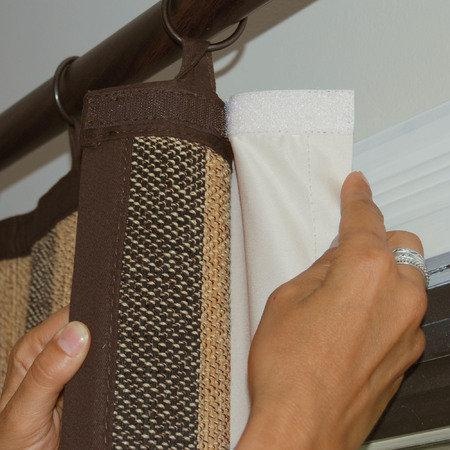 Benefits of  Velcro Panels
Curtain panels are usually equipped with top and bottom hem pockets to insert thin rods that are attached to the door. However, hanging the panels without using metal rods may seem appropriate in certain situations. For instance, space constraints may not accommodate the rod assemblage on the door unit.
Sometimes, people who live in temporary houses hesitate to invest in rods and look for other economical options to accomplish the task. Yet another reason is that the rod assemblage may seem too conspicuous for dainty curtain panels. In such situations, the most viable option is to use Velcro panels that fasten easily on the door.
Installing Velcro panels
The first thing is to measure the door, ensuring that the width of the curtain panel includes the window trim. The coverage can be widened to render a bigger appearance to the window. The area to be covered is marked on the top and bottom ends and a batten board is laid appropriately on the edge.
It is hammered with small nails at about eight-inch gaps, in order to make it secure. A stick-on Velcro is applied on the batten. The curtain panel is spread on a surface, the sew-on Velcro is pinned on the top and bottom edges on the rear side, and machine-stitched to make it secure. The curtain panel is hung by fixing the Velcro strip on its rear with that on the batten.
Design Options
Curtain panels are considered to be more decorative when compared to other window dressing options. This is mainly because of the use of pretty sheer fabrics that augment the décor by rendering a delicate yet stunning appearance.
The sheer material can be scrunched beautifully or pulled together and tied in the center to create an hourglass-like appearance. They filter sunlight entering the room and also provide privacy. Velcro panels combined with other window dressings like curtains or drapery can perform better with regard to filtering light, improving the acoustics of the room and increasing privacy.
French door Velcro panels are commended for their ease of installation, sparkling effect and capability to combine with other window treatment methods.