Florence is replete with some of the most inspiring sites in Europe. Couple that with amazing renaissance architecture and laid back Mediterranean charm and you're in for some of the best sightseeing on the continent.
Welcome, friends, to Florence, and another installment of my rather lazy, iPhone photo-blogging adventures. I thought it would probably be best to start off with a bang, produce the goods early… (and then slowly get progressively worse…)
And no, I'm not talking about my attempts to stick to New Years resolutions – I am of course referring to the quality of my photos.
Duomo di Firenze
So to kick off my 'Postcards from Florence' here's one I'm pretty proud of.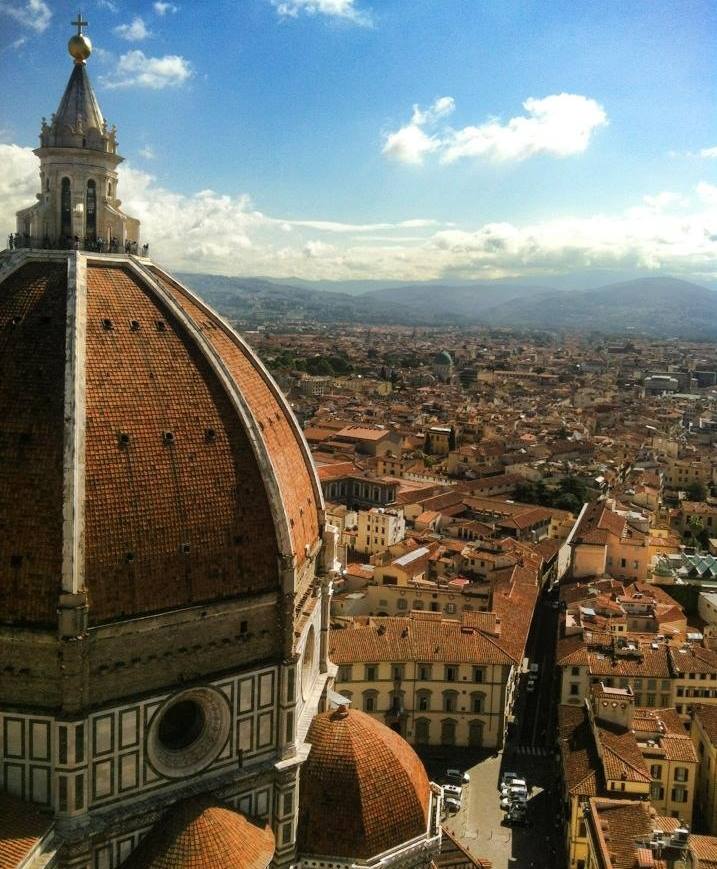 It was taken up the Campanile, Bell Tower and is of t' Duomo.
(Sorry, that's my Yorkshire accent coming through. Please don't actually quote that. Ever.)
The Duomo di Firenze or Basilica di Santa Maria del Fiore is the main church of Florence and a blooming nice one at that. The views of the luuurrvvvely Tuscan countryside just add to this photo and it's pretty difficult not to feel inspired taking in a sight like this.
Neptune Fountain Piazza della Signoria
Up next it's to Piazza della Signoria where we have a statue of some muscly, bearded chap, with a disctint dislike of wearing any kind of clothing.
But what Neptune (as he's known) lacks in clothing, he makes up in grandeur… and in the background you can see Florence's town hall, the medieval Palazzo Vecchio – another must see when in this fantastic city.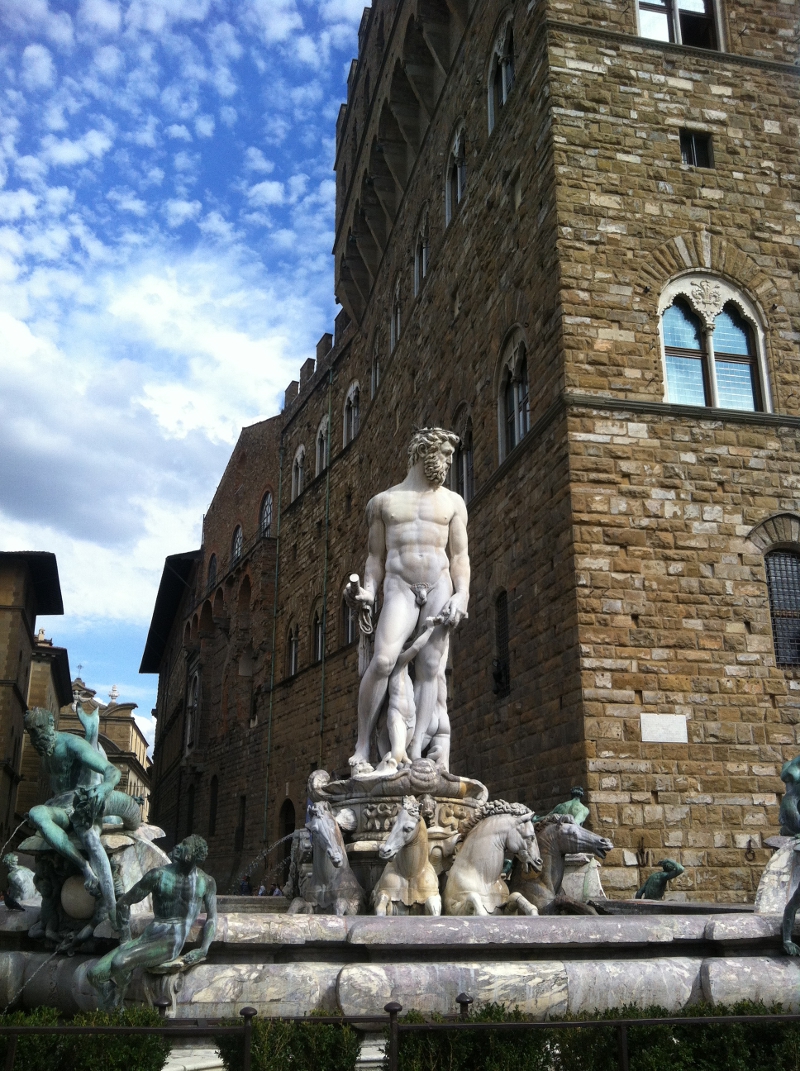 And to think Neptune isn't even Florence's most famous statue.
Ponte Vecchio
Another one of my favouite things in Florence is this old bridge…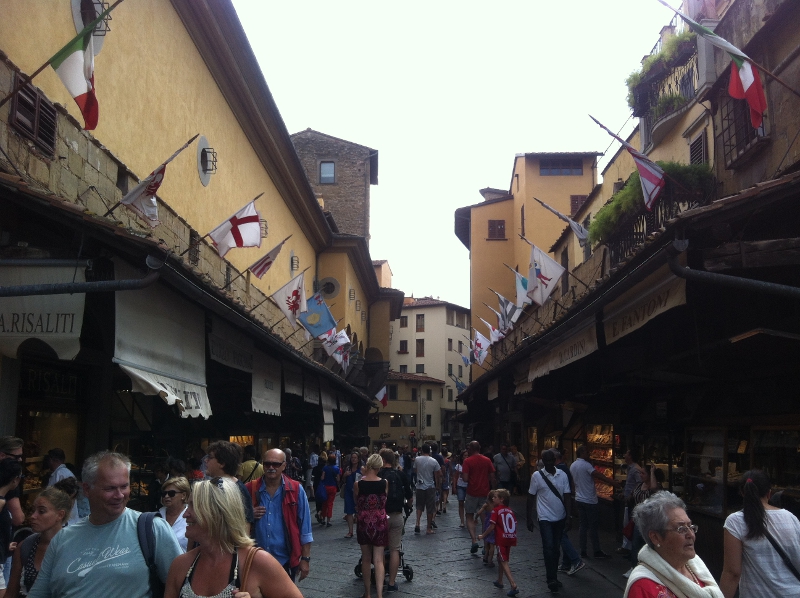 Not just any old bridge. This is the Ponte Vecchio, built in 1345 (making it older than your dad's collection of betamax tapes. Quite a bit older in fact).
It does get a little crowded with toursists – but this doesn't spoil the atmosphere and I'd highly recommend taking it in.
Piazza S. Spirito
Ok, please excuse the shaking photography skills for this next one (I told you I'd get progressively worse). But what we have here is a sign.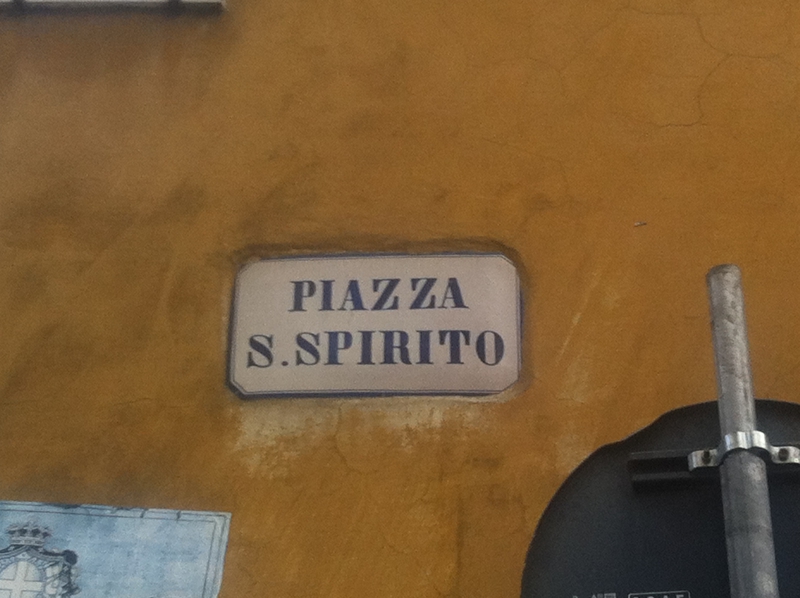 A sign of Piazza S. Spirtito, which after a little bit of reasearch turned out to be an absolutely cracking find, and the place where we spent about 40% of our time in Florence.
A small square south of the river, tourist-free, jammed full of locals, with resturants, bars and an atmosphere which kept drawing us back during both day and night.
If you're after restaurants where the only language on the menu is Italian (you should be), amazing food and relatively inexpensive prices then this is the place to be. It's also a great area to take it easy during the day and let the world pass you by.
Gusta Pizza
And another great draw of Piazza S. Spirtito was this cracking little take-away pizza joint… Gusta Pizza.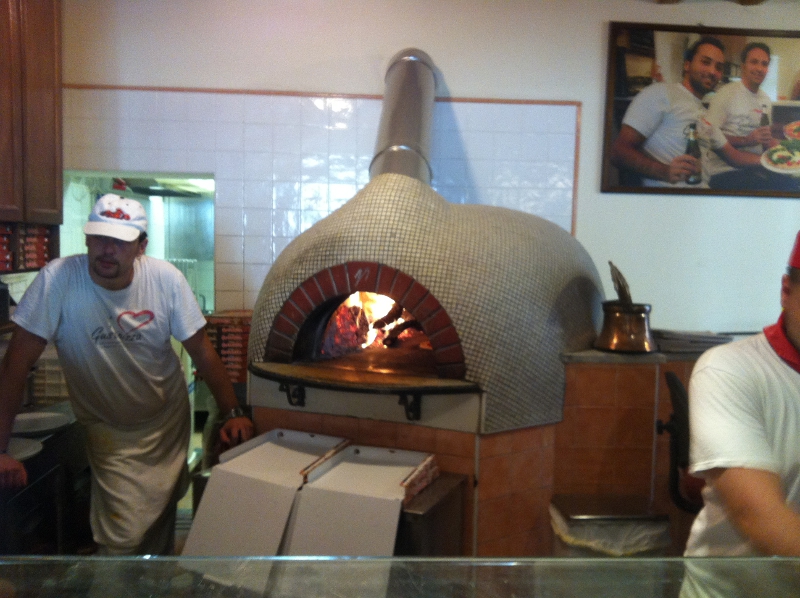 Wood buring ovens, friendly chaps in white t-shirts and what we were promised would be the best pizza in Florence.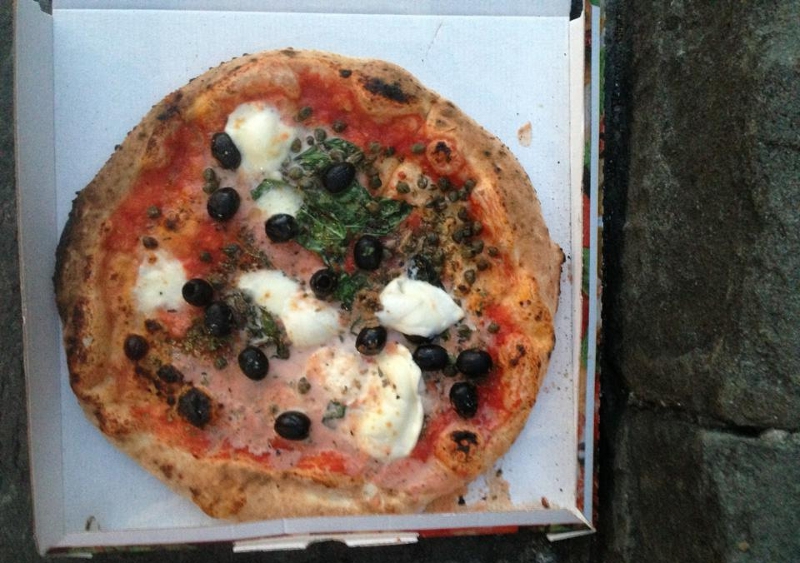 The best pizza in Florence?
It DIDN'T disappoint…
(Unlike the fact I had to share this with my friend.)
After all that pizza a good lie down is advisable.
Segway is the best way
But never a fan of staying still, we decided to really 'do' Florence – on a Segway – managing to annoy the majority of tourists there in the process.
Segway-ing your way around some of the most beautiful architecture Italy has to offer is remarkably good fun.
You really should have a go, I guarantee you the best time since sliced ciabatta.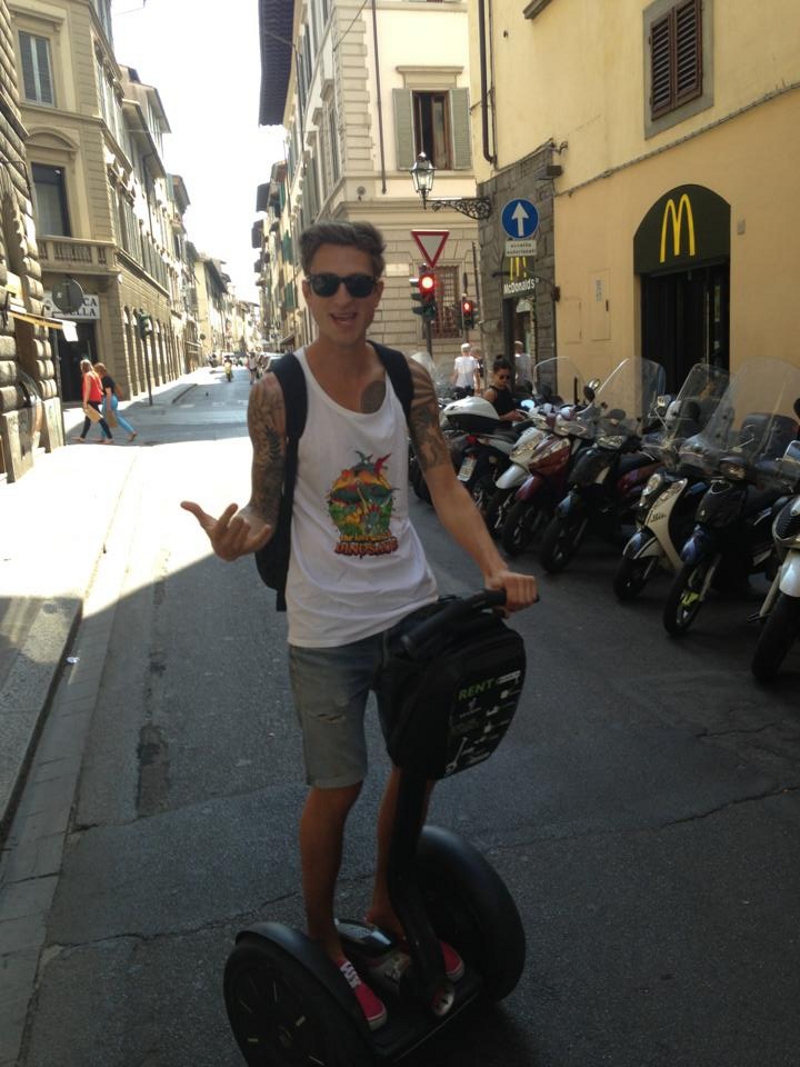 Rich on a Segway – a great way to see the city.
Piazzale Michelangelo
And finally, as we come to an end (hold back your tears folks… I know it's been emotional), if you're after one of those fancy postcardy style photos of the city… y'know the one you plaster all over Facebook to make your nan and your gardener jealous… then head to Piazzale Michelangelo.
It's a bit of a walk but well worth the effort. And even those photographically challenged won't fail to capture an awesome shot.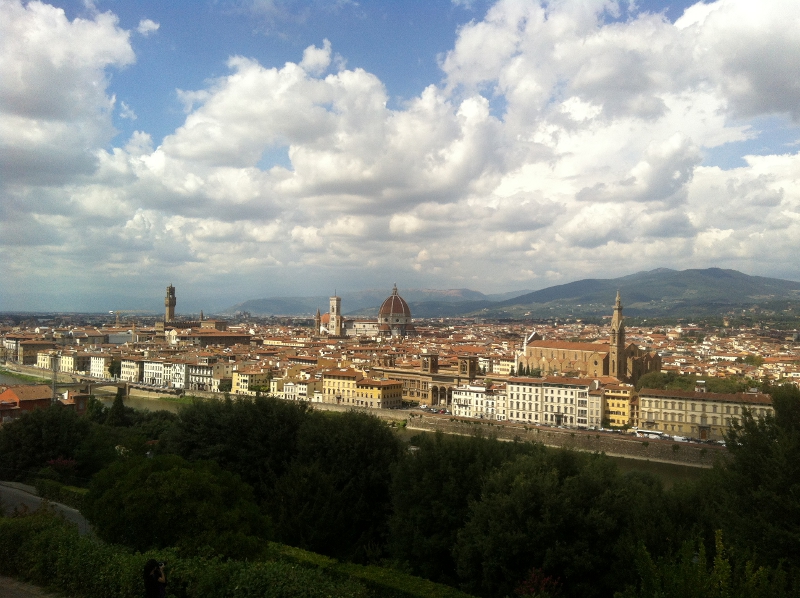 Stunning views over Florence from Piazzale Michelangelo
Nice to end on a high, huh?
So anyway, you just have to go to Florence. It'll change your life.
And in the words of Joe Dolce… it's not so bad, it's a nice place. Oh Shaddap You Face!
Written by rich from the laterooms blog