Photo by Lukas Kloeppel
Norway – known as the "Land of the Midnight Sun", this ruggedly beautiful northern country of glaciers and fjords offers a true escape from it all. Like the Vikings before you, come and explore one of Europe's most unspoiled countries.
Lying on the western edge of the Scandinavian peninsula, Norway occupies an area of 324,220 square kilometres and is home to 4,326,000 people. The country has a massive coastline indented with fjords and a mountainous interior with some of Europe's biggest glaciers. Midnight-sun days – when the sun never drops below the horizon – occur from 14 May to 30 July at Nordkapp in the far North.
Directions of Norway
Central Norway;
Nordland and the Far North;
Southern Norway;
The Western Fjords.
Southern Norway has daylight from 4am to 11pm in midsummer. The opposite occurs in winter when the sun does not rise in the North from the end of November to the end of January. Norway's first inhabitants arrived 10,000 years ago at the end of the Ice Age.
Nordic pirates – known as Vikings – arrived in England in 793 AD. This heralded the start of the Viking Age. Over the next century, the Vikings raided Europe and established settlements along the way.
The Viking Age came to an end when the Norwegian king Harald Hardrada was defeated at the Battle of Stamford Bridge in 1066. In 1380 Norway was brought under Danish rule and was ceded to Sweden in 1814. The country finally won independence in 1905 and established a monarchy.
Map of Norway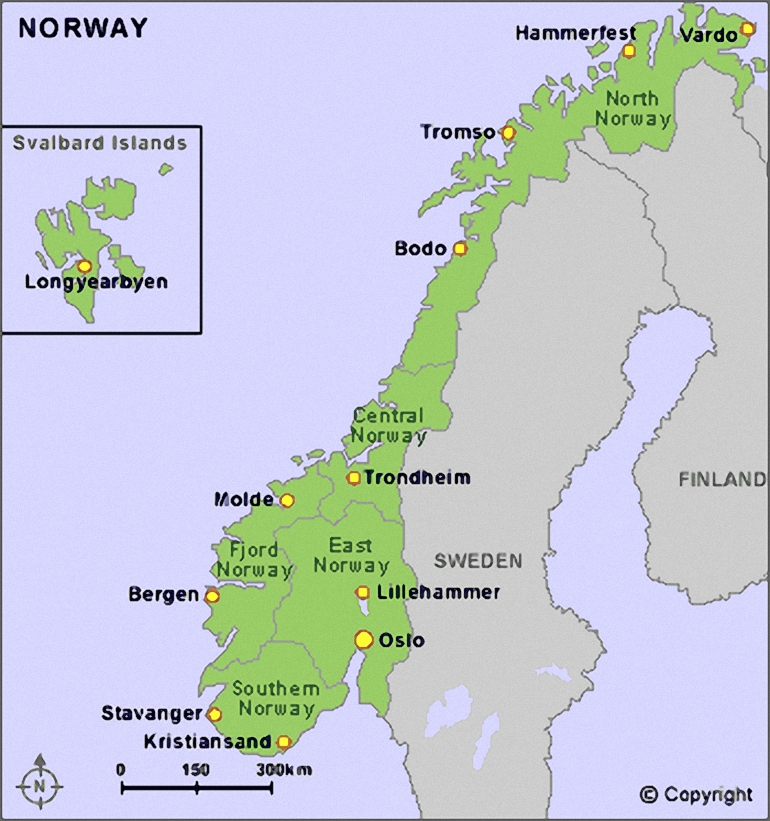 Norway has produced its fair share of artistic sons including the painter Edvard Munch, composer Edvard Grieg, and playwright Henrik Ibsen. The country holds strong to many of its cultural traditions and traditional folk dancing, singing and storytelling are very popular.
Sights to see when in Norway include its capital, Oslo, the oldest of the Scandinavian capitals. Founded in 1050, it is Norway's largest city and home to the spectacular Akershus Fortress – a medieval castle and fortress built in 1300.
Its banquet halls and staterooms and chapel are still used for royal functions today. The historic city of Bergen is ideal for exploring nearby natural attractions such as Sognefjord, Norway's longest and deepest fjord, the breathtaking waterfalls at Geirangerfjord and the enormous Jostedalsbreen glacier. The northern town of Tromso is known as the – Gateway to the Artic – and is a lively town with street music and more pubs than any other place in the country.
Cities/Towns
For a really spectacular experience, journey north to Hammerfest to see the Northern Lights. Known as the aurora borealis, they are a natural phenomenon characterized by the appearance of streamers of coloured light in the sky caused by the interaction of charged particles from the sun with atoms in the upper atmosphere.
Truly spectacular, the experience will stay with you for life.