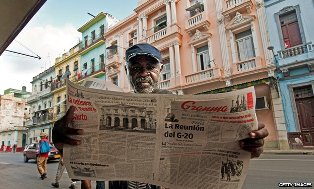 Welcome to our Cuba page! Below you'll find links to facts,information, news and articles about Cuba and everything Cuban…
All the information offered here is done so with the intention of allowing people to gain a better understanding of Cuba. We look at a range of areas from history to language to culture to business to tourism.
Any interesting facts or information we feel will help provide an insight into Cuba, we have set out below.
Cuba Business Guide
Business & Office hours in Cuba
Cuba Car Rental
Cuba Security Guide
Cuban Art
Cuban Birds
Cycle Cuba
Cuban Geogprahy
Cuba healthcare guide
Cucan Hitchhiker's Guide
Cuba money guide: Currency in Cuba
Cuba museum guide: Museums in Havana
Cuba restaurant guide: Eating out in Cuba
Cuba sightseeing guide: Things to do in Havana
Cuba Sightseeing Guide: Things to do in Pinar del Rio
Cuba Sightseeing Guide: Things to do in Santa Clara Cuba
Cuba wildlife guide: National parks in Cuba
Cuban Arts Guide: Film in Cuba
Cuban Arts guide: Literature in Cuba
Cuban economic guide: Economy in Cuba
Cuban Education Guide: Education in Cuba
Cuban festivals: Public holidays in Cuba
Cuban Fishing Guide: Fishing Spots in Cuba
Cuban Food Guide: Typical Cuban Foods
Cuban transport guide: Buses in Cuba
Cuban transport guide: Driving in Cuba
Cuban transport guide: Trains in Cuba
Studying Spanish language in Cuba